VARIOUS ARTISTS
Morning Becomes Eclectic -- live from the KCRW Studios (Mammoth Records)
By: Alex Steininger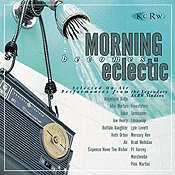 KCRW's Morning Becomes Eclectic radio show (heard weekdays, 9am to noon Pacific Standard Time) prides itself on exposing audiences to an eclectic mix of music; from pop to trip-hop, rock to jazz, and everything in between, the show isn't afraid to play music they enjoy -- music they're sure their listeners will enjoy, too. Now Mammoth Records is starting a new compilation series, under the same name of the radio show, to celebrate a diverse mix of music just like the show itself.

Cake, as always, shakes things up with their appearance. "Is This Love?" is their standard quirky pop music that travels down a road of narration, heartache, spite, and pure amusement as they turn their misfortune into an enjoyable situation for the listener.

Beth Orton's "Sugar Boy" displays some soft folk-pop filled with tenderness and plenty of emotions. As she strums the guitar, her voice cries out with a soothing vibe that is as gentle as it is fierce. Sixpence None the Richer's "Kiss Me," also an acoustic performance, is a bit more jumpy and poppier than Beth Orton's number, but possesses the same tenderness and love.

Semisonic brings in some sweet pop melodies on "Secret Smile" while Ednaswap's "Torn" nearly brings you to tears with the tender voice/acoustic guitar centerpiece that keeps popping up on this disc. The vocals are strong, the lyrics golden; simply put, the song is rock solid.

Lyle Lovett's "Bears" brings some country into the mix while Pink Martini's "Que Sera Sera" finishes everything off with some dazzling lounge-art music. Air, Freestylers, Mercury Rev, and PJ Harvey, just to name a few, help fill out this 17-track disc.

MORNING BECOMES ECLECTIC couldn't be a more appropriate title for the radio show or the compilation. It truly is an eclectic mix of music that will find you listening to one style one minute (and enjoying it) while a completely different form the next (and enjoying it too). I'll give it a B.