SHOW REVIEW: Shelby Lynne
December 4, 2001 - House of Blues, Los Angeles
By: Rick Cipes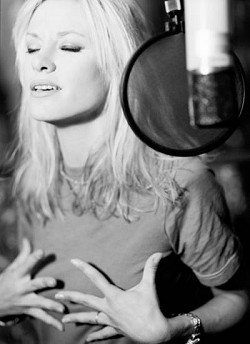 "These Scars Bare Fruit"

Make no mistake, Shelby Lynne is not the kind of woman that you would see riding on the back of a Harley, but rather, this feisty southern minx would be the kind of shit-kicker you see commandeering that Harley. At the sold-out House of Blues on Tuesday night Lynne, along with her tight sextet, used her power to commandeer center stage and deliver a polished and powerhouse show.

Possessing a restrained and focused voice that could shatter glass if unleashed at full-throttle, Lynne traversed back and forth between the previous "I Am Shelby Lynne" album and the new "Love, Shelby" album with a sultry grace, fragility, and tenderness befitting a woman-child that has survived her share of turmoil. It's that dichotomy, the vulnerability and edge, that makes Lynne so compelling to watch.

An emotional highlight of the evening was a stand-out cut off the new album titled, "I Can't Wait," a desperate, piercing cry-out from the mouth of a wounded animal, longing for someone to love her. Also compelling was her cover of John Lennon's "Mother," and her intimate, solo acoustic set during the encore.

Appearing in a skimpy mini-skirt and equally as miniscule black top, the Alabama native at one point joked that she was dressed like the kind of girls she used to laugh at...the ones who appear to be naked whilst hiding behind their guitars. I would venture a step further to say that if you saw her in the same outfit, strutting down the Sunset Strip...

And that's just the image the pimps at Island Records are trying to peddle on the new album...one look at Lynne kneeling in 70's style hot pants and you can surmise that the marketing geniuses figured she would be every Baby Boomer's wet dream.

Unfortunately, image isn't everything, and "Love, Shelby," with its overly-produced, slick tunes, is nowhere near as heartfelt as the minimalist "I Am Shelby Lynne." Pain, not pop, is what Lynne does best, and it's because she's willing to bare all those scars that makes everyone love Shelby.