SHOW REVIEW: Sevendust/Machine Head/Orange 9mm/DDT
October 14, 1999 - Portland, Oregon (Roseland Theatre)
By: Crystofer Paules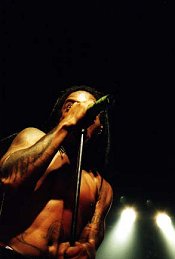 An astonishing array of lights and sound emanated from the Roseland Theatre on a chilly October night. The evening began with talking to Sevendust's extremely cool tour manager to confirm our passes. And then finding out that we were not on the guest list when trying to enter the venue. After retiring to the rear of the venue to try and talk to the tour manager, we learned that Sevendust had gone to do an instore. Moments later their limo arrived producing both the band and their faithful tour manager, he informed us that the people at the front door were incompetent and then gave us two passes for the show.

I'll be the first to admit that Sevendust's crowd could leave a bit to be desired, but everyone seemed well mannered and behaved. DDT opened the show, they incorporated two vocalists, but their music was a bit dry. However I will give them credit for trying to get the crowd into it.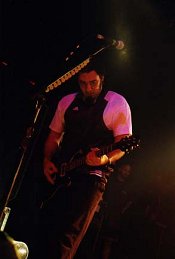 With no real energy going on at the main floor it was off to the backstage area where we met several interesting people from several interesting bands doing several interesting things. There was even the stereotypical young groupie guy trying to steal Sevendust's alcohol from their dressing room, he got removed, only to try and sneak back in with no avail. We made conversation with members of Orange 9mm and decided to make the trek to the main floor to check them out.
Whoa.
Orange 9mm exploded onto the stage and the crowd lit up. These nice New York boys delivered an extremely tight, energetic set. This fueled me to even jump into the crowd and break a few bones. They left the stage for the backstage proclaiming Portland as 'off the hook!!', we should all pray for them to come back very soon.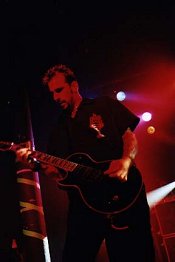 Next up was Machine Head. I had seen their name in several publications and had heard of them through much word of mouth. These Californian's served up a brew of new school metal that is a force to be reconed with. They opened with the second track off of their new record 'The Burning Red' out on Roadrunner Records. I'll have to say that it ran a tad monotonous at times, but the light show they had going for them more than made up for it. Bright oranges and reds cut through the greens and the blues and vice versa. They even played their version of The Police's 'Message In A Bottle' which fueled the crowd into a sweaty, singing frenzy.
And it was backstage once more to see the happenings of these polite young southern boys in Sevendust. They met everyone with a smile, and seemed eager to jump onstage and pound some out. Once they made their way to the stage, the crowd was seething with eagerness to see this band that had cancelled a show in Portland some months back. They thrusted themselves onto the stage and one by one entered all the while beginning to play the opening track off of their new album 'Home'. They delivered old songs and new songs alike mixed in to please every fan. 'Denial', Sevendust's newest hit single was broken out midway through the set. They ferociously pounded on their instruments not letting up for one moment. 'Terminator' sent the crowd into a massive roar and you could see the band feed off of their fan's energy. As the strobes and lasers accented the beats and riffs, lead man Lajon's vocal's cut straight through, laying down his signature soulful roar. When the time came for the band to call it quits they chose to close the show with the near perfect single 'Bitch'. Which sent everybody through the roof. They reached and grabbed and jumped all over each other until the very last note.
And then it was over as abruptly as it had started. There was no encore and no complaints. Everybody got to hear what they wanted, and they were happy that these Atlanta boys hadn't let them down.