SHOW REVIEW: Shonen Knife w/ Venus 6
Knitting Factory (Hollywood, CA)
By: Ronald Vaughan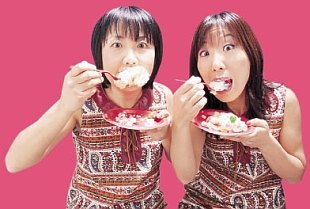 Wow...an all-female band from Osaka, Japan...which can still deliver the musical goods after twenty-two years!!

Only one contender: SHONEN KNIFE---made up of original members NAOKO YAMANO, guitar; ATSUKO YAMANO, bass [formerly, drums]; and new drum- mer, "Mona"(?).

With their "Fuji-Con" guitars,matching Hindu-psychedelic kaftan dresses (similar to on their website), this outfit displayed their matured, yet unchang- ing pop-rock style. Some have called them an "improved" version of The Shaggs...having musical skill, but yet retaining that eccentric "edge".

They've now signed with New York's Confidential Records. Songs from this live set included "Kon-Ichi-Wa", "Flying Jelly Attack", "Bear Up Bison", "Twist Barbie", "Map Master" [about Naoko's getting confused with directions], "Buttercup" (the "Powderpuff Girls" theme); "E.S.P.", and the Monkees' "Daydream Believer".

SHONEN KNIFE has been released on several albums in all these years. Their latest efforts include "Heavy Songs" (Confidential Records). It's their last English-language release to date.

Opening the night was local artists VENUS 6 (Joan Scelene, guitar/vocals; Andrea Kusten, drums; Laurie ES, bass/vocals). Joan had been in DOPPLE- GANGER and SLOTROCKET. This band is still melodic, but somewhat louder...and with more hair showing!

The club manager, Mr. Bruce Duff, is to be congratulated in getting these bands on stage, on time. What a fine evening!