SHOW REVIEW: West Coast Safari Tour '99 with Kneeling Elephant Recording Artists' Sunset Valley, Adam Elk, and Gloritone
November 6, 1999 - Portland, Oregon (Berbati's Pan)
By: Alex Steininger



In 1997 Kneeling Elephant Records was born as a joint venture between ARTISTdirect and RCA. To promote the bands, the label, and the joint venture, three of the label's most recent signings (Sunset Valley, Adam Elk, and Gloritone) hit the road together as part of West Coast Safari '99, a five-city tour that hit Portland, Oregon on November 6th.

As I walked into Berbati's, it wasn't what I expected. The club was empty. As I shuffled through the door I was handed drink tickets complements of ARTISTdirect. I quickly made my way to the back of the room and stood there as Gloritone kicked out their brand of power-rock-pop. My immediate reaction was that this band was a cheap Foo Fighters rip off. The guys sitting next to me, drinking and laughing, kept talking amongst themselves about how the band sounded like a knock off of Nirvana. A few others walked past me discussing how they sounded like the Foo Fighters. I quickly realized it wasn't just me hearing and seeing the comparisons. The lead singer, with his dirty, long black hair even had the old Dave Grohl look going. Despite the similarities and obvious influences, the band played a powerful rock set to an empty house.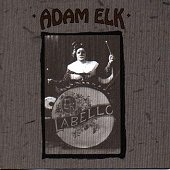 Next up was Adam Elk, featuring Adam Cohen, the former frontman for The Mommyheads. Using his mother's maiden name, since Leonard Cohen's son, Adam, beat him to the use of Adam Cohen, he and his band warmed up the slightly growing crowd with some powerful funk-soul grooves. Centered around the funk, with ample rock sensibility thrown in, Adam's charismatic stage presence made the crowd take notice while his backing band nailed the songs with precision. Their debut, LABELLO, released in March on Dept. of Ways & Means, is going to be released in 2000 on Kneeling Elephant.
When I first head LABELLO it didn't really stick with me. I listened to it a few times, but couldn't seem to get into it. But, after seeing Adam Elk's powerful, sweat-driven live show and the energy the band plays with, subsequent listens to the disc have proven successful. I can say "I get it" now.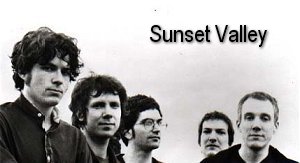 Next up was hometown favorites Sunset Valley. Yet, the house was still not even close to being packed, even as the band was setting up and getting ready to play. This stunned me; I thought it would have been filled to capacity. People started to stroll in, sure, but it wasn't nearly what I expected. Though, once the music started blaring, all was forgotten as the band took those in attendance to Sunset Valley, a land of buzzing pop, quirky lyrics, and undeniable fun.
Mixing songs of their debut, THE NEW SPEED (Sugar Free Records), as well as plenty of material off their just released follow-up, BOYSCOUT SUPERHERO (Sugar Free Records), the front of the stage started to fill up as everyone got out of their seats and came up to witness this sure-to-be-huge pop act amaze and astonish. Songs like "I Got Fair" and "Happily Frozen" bounced around in your head with glee, pulling you off the floor and into a mindset so enjoyable, you never want to leave. All the while, "Jackass Crusher" and "Tornado" buzzed with fiery guitars and ample rock bite. And that's just their new album. Old standards off of THE NEW SPEED like "Skylab Love Scene," Shanghai Shelly," and "Blanketville" just reiterated why this band creates a buzz wherever they go.
Though attendance wasn't what it should have been, those that were there got a great taste of some up-and-coming music that will make its mark in the coming years. Both Adam Elk and Sunset Valley, for those that witnessed, put on a live show not to be missed.