INTERVIEW: Sunset Valley
Quirky Pop Lunacy At Its Best
By: Alex Steininger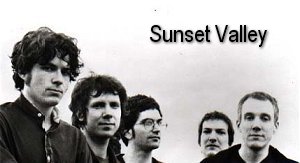 Following up your debut release can be hard. Especially if that debut release created as much buzz throughout the industry as Sunset Valley's THE NEW SPEED (Sugar Free Records). A magnificent journey through the skewed mind of frontman Herman Jolly, coupled with tight, punchy pop, Sunset Valley had no problem instantly finding an audience with their debut. But, with their sophomore release out now (BOYSCOUT SUPERHERO) on Sugar Free, and a new deal inked with Kneeling Elephant/RCA Records, the future seems to be bright in Sunset Valley.

"I don't think that was too much of a concern," comments guitarist Jonathan Drews when asked if the band felt any pressures of follow-up success going into the recordings for BOYSCOUT SUPERHERO. "The New Speed was out for quite awhile and we had new songs that we wanted to track, so New Speed really wasn't in our heads."

And it shows in the outcome of BOYSCOUT SUPERHERO, another quirky pop album sure to spin heads and help the band amass a loyal legion of fans worldwide. The production is stronger, the songs are more cohesive, and the entire album seems more like a package offer rather than a collection of songs.

"[We] recorded Boyscout on better equipment. On New Speed everything was worked out, tracked in ten days, and recorded live. Whereas with Boyscout we had a real studio and time to concentrate on the songs," states Jonathan on the differences between the two albums. "We also had more of a production hand with Jeff [Saltzman] and Tony [Lash]. Herman would bring in four track demos, Tony would come up with drum parts, and then we'd go from there. Basically, Boyscout was created on tape."

Of course, its no small feat when, instead of clubbing and playing your new material out in front of a live audience to hone your skills you hit the studio and create them on tape, not knowing how your audience will react or how the band will sound once the songs are eventually put to the live test.

"It wasn't hard," explains Jonathan, "but it was very time consuming. Sometimes we found ourselves digging into the songs and then we realized we needed to take a step back from them. We'd be done with a song and not know it, so we'd keep going sometimes. At that point, you really have to pull yourself away from the songs and come back to them."

Originally using ARTISTdirect's booking agency, that is when Kneeling Elephant first heard the band's debut and fell in love with them. They kept up-to-date on the band, reading their press and tracking their tours and sales. Then, when the band played an industry showcase in L.A., with Kneeling Elephant in attendance, things began rolling and the talks began. Eventually the band found a spot on the label's roster. Yet, with their record just released at the beginning of November, they are still a Sugar Free act.

"Kneeling Elephant will mostly be involved with the third record. Though, they are marketing Boyscout a bit," states Jonathan on their situation with Sugar Free and Kneeling Elephant at present. "For the time being, we're still a Sugar Free band, so we're mostly dealing with them."

With fanfare already coming their way with the newly released BOYSCOUT SUPERHERO, when the band hits the road in February and March to go all out promoting the record, they are sure to wow over old and new fans alike.

"I hope fans enjoy [BOYSCOUT SUPERHERO]. I want them to understand the sonic differences between our two records. Hopefully they'll realize that we evolved as a band and that we are all grown up and will change. As for new fans, I hope they get excited when they hear the record."