SHOW REVIEW: Ween
Vancouver BC - June 22, 2000 (Vogue Theatre)
Review and photos by: Andy Scheffler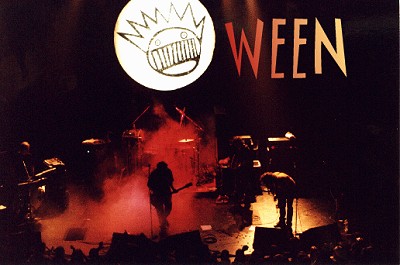 "Alright, Vancouver, you fuckers - we love you!"-Gene Ween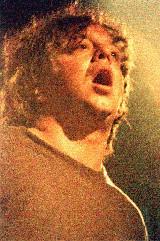 What can really be said about Ween? While you will very rarely, if ever, hear a Ween song on the radio, and your average chap on the street probably has never heard the hallowed refrain of "Mr. Would You Please Help My Pony?", they have this thoroughly devoted underground following everywhere they go. This show was sold out within a few days, and well before the show, the lineup stretched around the block for the general admittance seating. I recall the same thing happening last year as well when this band hit town, and considering last year's epic four-hour performance, it's no wonder the masses didn't want to miss out on this show.
All crowds should be like Ween crowds. I have never been among a more friendly and diverse group of people at a show. Hippies, alterna-folks, rave kids, punks, average-joe's and all their parents made up the basis, and where these groups usually clash, everyone was instead united in Ween-dom! Daisies already littered the stage ("Push Th' Little Daisies"), and the antsy crowd continually chanted "Deaner! Gener!! Deaner!" at any tech who crossed the stage. At 9:30, they sauntered onto the stage and began the show. Proclaiming now to be "browner than ever", they launched into "Freedom of '76." From there, the never-ending set list contained new gems and old faves. And everyone in the house was singing along.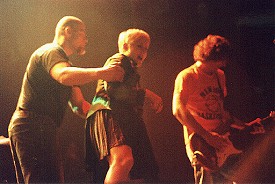 It's generally well-accepted that the band will arrive onstage fairly drunk. Where some may become obnoxious, Ween becomes fuzzier. It really is a big family there, and you can tell they love performing. There is always a smile on their faces when they're up there. The devoted fan base is there for the music and the incredibly human aspect of the show. Sure there's mistakes, but big deal. It's live, right? Influences on the sound seem to have been grabbed from all vast corners of the musical spectrum, and molded into one pulsating blob. It's not, however, the songs individually that are so much of a melting pot of styles, as is the range of genres you could categorize the various tracks. They are pretty damn talented, and certainly don't limit themselves musically.
There was moshing (of the light variety, mind you...hey, this isn't Metallica!), and there was dancing of every form imaginable, and there was swaying, and there was toe-tapping. The band, whose primary members are referred to affectionately as Dean and Gene Ween, includes some interesting elements in the show, such as some bizarre pipe-like contraption wrapped around a microphone that gives this distorted wa-wa guitar-type noise when blown into, and the ever-present bullhorn. The middle chunk of the show seemed to focus on slower tracks, which gave the fans a chance to rest and flick on the lighters. This did not stop one female fan from taking advantage of the calm scene and leaping onto the stage to dance. She was quickly escorted offstage. Not as accommodating as some would have liked, the band ignored a group of fans' plea to sing 'happy birthday' to a girl in the crowd...they didn't let up all night though. Chants for 'Gin and Juice' also yielded nothing, but a group of courteous fans who had watched me taking photos and relentlessly scribbling on my notepad all night did purchase me a couple gin and tonics. Thanks, Ian and Cylus!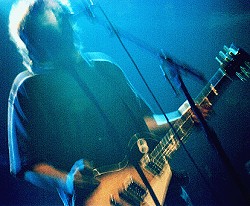 After a brief intermission, the band came back out under the giant psycho Ween head symbol for the encore. This began with sea shanties, and included some acoustic balladry and Jamaican songs. At about 12:30, The vocalist leaves the stage with a big goodnight, leaving the rest of the band playing. And playing. And playing. A vocal-free outro that had everyone up and out of their seats, dancing and yelping along, which suddenly gave way to a drum solo. Yes, the remaining band members put aside their guitars, basses and keyboards and stood around watching the drummer do his thing for a good ten minutes at least. I, for one, have never seen anything like it. Even the crowd, by now drunk beyond repair and busy jiving to the tunes, was struck motionless in awe after a few minutes. As he wound up, a chorus of yells filled the theatre, and the house lights came up. 12:45. The band played for three hours and fifteen minutes.