SHOW REVIEW: Woke Up Falling / Joe Davis Band / Spyglass / Starter Kit
November 16, 2001 - Portland, Oregon (Ash Street Saloon)
By: Sonya Brown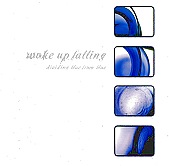 When Woke Up Falling announced a live performance to be held at Ash Street, I rushed out to meet them with bells on. I have been hearing a lot about Woke Up Falling lately, since the release of their debut CD, "Dividing Blue from Blue".

Now I must admit that my main reason for wanting to see Woke Up Falling is because Cedric Justice, is the "lowly drummer". I am always intrigued by Cedrics' rather interesting drumming philosophies (some of which he shares with us a bit later in the evening).

I have been on the Woke Up Falling mailing list for several weeks, reading about all of their zany "tour antics" (and guys, I'm not buying the story about the dead coyote!). I highly suggest you sign up for their entertaining newsletters at their website - so that you, too, can read their crazy music tour stories. You may even find out WHY bassist Shane Sanders was cooling his heels in jail this past December!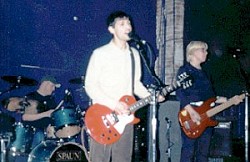 Starting off this evening at Ash Street is "Starter Kit". Starter Kit is a rock/pop band based in Portland, Oregon. Starter Kit formed in the summer of '98, after vocalist Jeff Pending moved to Portland from New York. Multi-talented, Jeff Pending also provides keyboards for Woke Up Falling on their debut CD. According to the Starter Kit website, Starter Kit released a full-length debut cd in August of 2000 on San Diego-based label M-Theory Records. Indie rock fans are sure to hear more from Starter Kit in the future.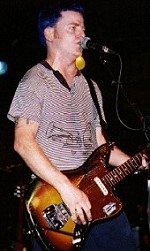 Next up: Joe Davis (from the "Pinehurst Kids"). The expressive Joe Davis is quite intriguing onstage. This trio is melodic rock and roll, and they give the crowd a wonderful performance at Ash Street Saloon. I do hope to catch Joe Davis again sometime in the very near future, as he plans on touring with The Pinehurst kids, and a West Coast solo tour as well. Certainly Davis will delight crowds whether he is performing solo, or with The Pinehurst Kids! Joe Davis also has a new CD out, "Hope Chest", which is available at CD Baby.
[NOTE: "Hope Chest" was released in July on In Music We Trust Records. You can get access FREE Joe Davis MP3s at http://www.inmusicwetrust.com/label/]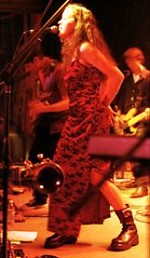 Taking the stage in 3rd position is Spyglass (from Seattle). I had recently heard a lot of very positive feedback about Spyglass from my boyfriend, who saw Spyglass perform this past September 22nd, during MusicFestNW, along with The Prids and The Rotating Leslies at Dante's Inferno.
Spyglass leaves no room for disappointment! Spyglass features a darker sound, which appeals to my gothic music-loving side. Spyglass' provocative female vocalist also plays flute and keys. Toward the end of their set, Spyglass floored the whole audience with an impressive cover of Massive Attack. Spyglass has a CD available through Pattern 25 entitled "This Heaven".
Last on the Ash Street lineup this night is Woke Up Falling. Woke Up Falling's set includes the songs: "New Action", "Laughing At The Thought", "Never Been Here", "Bros Before Hos", "Tramboline", "New Song", and "The Only Whisper Left". Three of these tracks ("Laughing At The Thought", "The Only Whisper Left" & "New Action"), are featured on their CD, "Dividing Blue From Blue" (which was reviewed favorably in the November 2001 Issue of "In Music We Trust").
Woke Up Falling is: Gordie Muscutt - vocals/ guitar; Zak Martin - guitar/vocals; Shane Sanders - bass; and Cedric Justice - drums.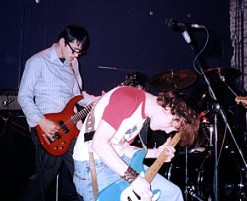 Woke Up Falling put on a spirited show featuring these fine young boys jumping about, attacking the stage - and generally just having a blast. Now I must wonder how much of this is typical, and how much of this was attributed to the fact that WUF was up last and the boys had most likely been hanging about Ash Street drinking all night! No problem, when a band has this much fun performing together, well, they must be doing something right.
"Where does the name: Woke Up Falling come from?" I ask Gordie, the band's vocalist. "Nothing special here..." he replies. "It's a boring, boring, boring story." Sensing that I sincerely want to know about the significance of the band name, Gordie continues, "Our old bassist and super dear friend, Ritchie Young, actually came up with the name after waking up with a bad hang-over." Gordie admits, "It's all about the booze." Ahhh... so my "drinking all night" theory must be true then! (Wink)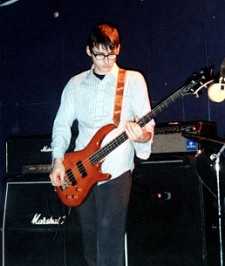 I was also wondering what song WUF enjoys playing live the most. "I think we always love playing newer songs the most." states Gordie. "Older songs always seem to lose energy after playing them 500 times. As an example, Gordie picks one track off their new cd, "I'd pick 'New Action', only because that song never loses energy, " explains Gordie. "It always seems to gain energy the more we play it. Which is a rare thing for us."
Gordie's statement partially answers my next question: Why did WUF only cover 3 songs off their CD during the live set? Gordie explains, "We are always writing new songs and love to work them into the set. We try to only play the songs off the CD that have the best energy live." Which makes perfect sense really. "We just want the live show to rock," Gordie adds, "and leave the wussy stuff for the recordings."
Now, I personally wouldn't call the other tracks on "Dividing Blue From Blue" "wussy stuff", Still, I get his point. The real poetry of WUF lyrics is something that you can't focus on during a loud rock show. I feel fortunate to have a copy of "Dividing Blue From Blue", as it is nice to balance out the live show with the recorded version of WUF.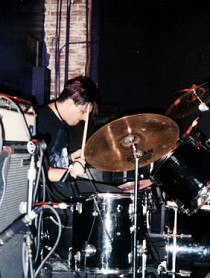 During the night, while watching some of the performances at Ash Street, I spoke with Cedric a bit more about his personal drumming philosophy. "Oh, I just felt it comical that most 'indie' or 'emocore' bands have a stripped down drum set," he comments, "as if minimalism is a virtue." I wonder how deeply his feelings on the matter run as Cedric reveals, "I abhor minimalism in my own playing, and I have stripped things down as far as I can go, that being 3 toms instead of just two." Fascinating, a perspective from the "other side" of the drum kit. "I normally play an 18 piece kit," he continues, "So, an 8-piece is as minimal as I can go." Cedric wraps up his take on drumming philosophy in firmly stating, "I never have been a follower of a herd, and this emo-style drum setup I won't do. 3 toms or death!"
What's in store for Woke Up Falling in the future? According to Gordie, it's "tour, tour, tour... and maybe some more touring". Why so much emphasis upon touring? "We want to play out as much as possible to support this album," Gordie explains. "Oh, and world domination..."
If it's "all about the booze"... then break out the booze and brace yourself for Cedric's "3 toms" - because Woke Up Falling is coming to a stage near you... and they are hell-bent on world domination!