SHOW REVIEW: Hannah Montana
Live at the Rose Garden -- September 17, 2006 (Portland, Oregon)
By: Valerie Richardson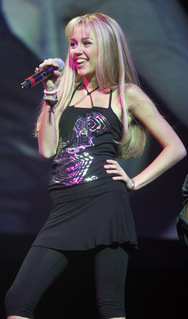 My eleven-year-old daughter, Asasia may just be the most fanatical fan of Miley Cyrus also known as Hannah Montana. She knows all the trivial information about her. Things like the fact that Miley Cyrus has two worn out bracelets that she never takes off; one from a fan and one from an amusement park that many times photographers airbrush out of photos. So when she found out via the Hannah Montana fan sites online that Miley Cyrus was going to be performing as Hannah Montana at The Rose Garden in Portland, Oregon with the infamous Cheetah Girls, she had to go and her life depended on it. Trust me, she made that known; repeatedly. It was life and death that she attended this concert; what would be her very first concert ever.

We arrived early, where we found masses of young girls with their mothers standing outside the venue waiting for the doors to open. There were over 8000 people in attendance and Asasia was try to conceal herself as she shook of excitement. She was trying to play it cool, but I saw through it; as I couldn't help but nostalgically think of my first concert at the tumultuous age of eleven, as well. Through her eyes, I saw her excitement, ambivalence of the unknown, nervousness of a new experience and absolute raw joy at the prospect that she was going to be breathing the same air as her idol, Miley Cyrus in a few short moments. Moments that felt like an eternity to her, in anxious anticipation.

Everlife, a rock band made up of three teenage sisters warmed up the crowd before Hannah Montana came out on stage dressed in silver sequins and the infamous blonde wig, disguising her alter ego, Miley Cyrus' natural brunette hair. The crowd of what mostly consisted of little girls between the ages of 4 and 15 went crazy. Hannah sang the songs they've grown to love from her TV show, "Hannah Montana", with thousands of loyal fans singing along. I found myself even singing along to "Best of Both Worlds", but didn't feel too bad when I looked around to find that other moms were singing along as well and knowing that they know the words the same reason that I do: Hearing it played throughout the house over and over and over again.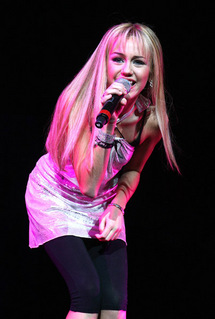 Hannah Montana pulled off a brilliant set. Going into this, I didn't expect to enjoy the show; I was attending merely for the benefit of seeing my oftentimes, angst-y daughter smile. Hannah Montana proves her worth on stage; not just as the daughter of the famous country singer, Billy Ray Cyrus, but truly for her own talent. She belts beautiful melodies with heartwarming lyrics she wrote herself that pre-teens and teenagers can relate to; making her seem not just a star, but a human who is going through the same trials and tribulations as they are such as:
I got everything I've always wanted/Living the dream/It's everything I've always wanted/Is it always what it seems?/I'm a lucky girl/Whose dreams came true/But underneath it all, I'm just like you.
Our first concert is something we never forget; it's an experience that stays with us always. I don't think I'll soon forget the sheer joy and innocent excitement that I saw through my daughters eyes that day. Sharing those moments with her made me a lot more empathic towards her fanatical interest in everything Miley Cyrus does, down to what kind of toothpaste she uses. Now I have a glimpse of what my daughter sees in her that is so fantastic, and I can honestly say that she has made me a Hannah Montana fan as well.