INTERVIEW: 44 Long's Brian Berg
Singer/Songwriter/Guitar (44 Long's web-page)
By: Alex Steininger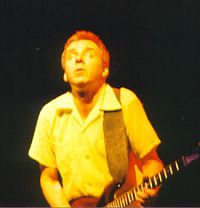 Brian Berg, the singer/songwriter/guitarist for Portland, Oregon's 44 Long knows how to write a brilliant pop hook. One listen to either of their albums, COLLECT THEM ALL (Schizophonic) or INSIDE THE HORSE'S HEAD (Sideburn), and you'll see why fans of roots rock, country, and the always enduring pop fanatic have gone nuts for this four-piece's rock 'n' roll music. Whether its an acoustic based number an all out rocker, Brian Berg and company will have you on the edge of your seats begging for more.

Alex: Now Brian, there are a lot of different elements going on in your music. You've got pop, roots rock, and a variety of other sounds. Have you ever came up with a title for your music or do you leave the labels to the press?

Brian: It's pretty tough to label the music except for song by song. It's all rock 'n' roll. I find myself quoting Homer Simpson. For me, not much interesting has happened since 1975, except for a few isolated things like punk; punk was amazing for spawning now punk things for me like Elvis Costello, The Replacements, stuff like that. I mean, there were a lot of great bands, but like Homer said to Marge Simpson, "Rock 'n' roll reached perfection in 1975." So, it's tough to classify my stuff, because some of it is folkie and some is raw country; heck, I don't know what it is. People even hear things I don't hear. We've had references to Motown, which isn't an overt reference in any of the songs I can hear, but when we're recording I'm not thinking of anything particular when we do the songs. So, I don't really know what it is.

Alex: Have you ever been flat out surprised about stuff you read in the reviews of your music, like when they mention something you didn't necessarily hear at first?

Brian: Yeah, though I'm just amazed people want to listen to it and review it, because by the time I'm done recording the songs -- and I do all the recording in my basement and a lot of it by myself -- I'm so sick of them that I don't know what is good or bad. I can only tell after several months; if I go back and still find the songs interesting, then they're good. It's because all the surprise is gone. In three months I can go back and be surprised by a chord change and go "Wow, that's cool."

Alex: How would you describe INSIDE THE HORSE'S HEAD compared to COLLECT THEM ALL?

Brian: There isn't that much difference in my mind. I don't really view either one of them as a concept record, they're just individual songs. To me its just an alternate universe radio station where its cool if The Replacements go into Simon & Garfunkel or Led Zeppelin goes into Neil Young. I try to group them and make sure they go together, though. I think the second record [Inside The Horse's Head] is a little harder to get into, but maybe more rewarding once someone does get into it.

Alex: When 44 Long tours do you guys hit the road for months on end or do quick weekend jaunts?

Brian: Basically, we don't tour. We did a show at the Viper Room in L.A. for an ASCAP showcase, but that's all we did. We went down, played the show, and came back up. To me, it's just a hobby. There is money on the table now, so things might change. I would love to do it for a living, but right now I just want to take advantage of things as best I can and have fun while I work my day job.

Alex: So, how has the industry reacted to INSIDE THE HORSE'S HEAD? Is there some interest from bigger labels now?

Brian: Yeah, there are a couple of things. Of course, nobody has told me not to talk about anything or about how covert to be, but at the same time you want to knock on wood about these things. These guys who signed Elvis Costello and worked with Jake Riviera at Stiff, Andrew Luwder and Jon Porter, have a record label called Cello Recordings. They're owned and financed by some zillionaire; it's like the guy who owns Cello Audio. But, Jon Porter has produced Roxy Music and Keb Mo, leaning towards the mature side of things, like mine. Of course, at forty-one I think I rock as hard as anybody, but its not the same as seeing a twenty year old discovering things right in front of you, which is still the epitome of the rock 'n' roll experience. It's a young man's game and should be. But, a lot of us grew up on this shit. At seventy-five I'm still gonna want to hear a Replacements record. It's not like I'm going to go back and listen to my parent's music. So, I'd love to work with these guys and they're more in tune with where I'm coming from in terms of the dose of rock I want to put with these lyrics. They've been tracking us since SxSW 98 and helped us get down to the Viper show with some cash. I'm also really happy working at this level with Sideburn. Joe Davis from the Pinehurst Kids came up to me the other day and was really impressed with how Sideburn had our record everywhere they were on tour. So, they get the CD out there and do a great job. The question is the same as it is with the Internet. So, its there, but without spending money on advertising, does anyone know about it? So, I'd really like to work with a label like Sony who has an advertising budget.

Alex: How do you think having your own studio at home effects your songwriting style and how do you think it effects the outcome of the song and its sound?

Brian: For me, it's the only way to go. I'm that much of a control freak. I can't call up people to see if it is OK for me to come over and record something or lay a track down. I mean, the majority of my vocals are recorded fairly drunk at 2am and you just can't go and do that at other people's studios. Plus, I've got really bad hearing, so I end up mixing for weeks and weeks straight. So, I need to mix it one day, see what sounds good the next and just keep that mix on the board and fine-tune it. I don't have someone coming in to do a session that night and losing my settings. Not that you can't take Polaroid's and make charts and get it all back, but this is so less intrusive to the creating process. You don't have to get the mechanics set up every time you want to add a harmony vocal or a bass line. Plus, with the affordability of technology, it wasn't until about five years ago that I could put out a good sounding record. I was like, "It does sound good, I should put out a record," and there you got COLLECT THEM ALL. Then I got lucky and Andy and Eric kept coming to my solo shows asking me to get a band together. It's all very symbiotic; it just keeps snowballing and snowballing into what it is now.

Alex: The band is currently in the studio laying down some tracks for the next album. Are you currently in the demoing stage or are you laying down the actual tracks that will go on the album?

Brian: To me, they're kinda the same thing. I really tend to lean towards the sloppy first performances over the more polished stuff. We did too much of that, in my mind, on the second record, and it will be a little more raw, at least in my mind, on the new record. There is about four tracks done. We got the old country pigeonhole on the first record, which is completely fucked up since half that record is psychedelic. I want to push more towards rock and pop right now; I've also got a collection of quieter acoustic guitar-based songs, but I'm not really ready to put it out yet. I've got sixteen songs done and it will probably turn into a twelve song CD and be released in a year or so. I don't know if it will be a 44 Long album or not. The songs are done, though.

Alex: On the songs you play drums on, are those demo songs that are set up so you can bring in the 44 Long drummer, or do some of the cuts you drum on find their way onto the album?

Brian: It's a combination of the both. But, I don't specify that kind of stuff on the albums because I don't want people to sit there and question whose playing what. I want them to just listen to the songs and what is coming out. Some are all me and some are all band. I played everything on half of the first record because the songs were done and I didn't really want to fiddle around with them. The band plays most of the stuff on the second record and I'm doing a couple songs myself.

Alex: How long does it usually take you to record an album?

Brian: I don't have a long enough track record to really know. Last time it was really, really hard because the board I used was down for like two and a half months. The manufacture took care of it all, and the job should have only taken two weeks, but UPS lost it en route back to New York to get fixed. And, of course, I couldn't make a claim until it was lost for two months. Right when I was about ready to make the claim, the manufacture was like, "Well, we have the board." So it was really fucked up. Then, a week before I got the board back, my eight track went down. That cost me another three weeks and $300 to fix. We spend about one week per song, but that's only because I can afford to sit there and mix it, listen to it the next day, and do it again until I find a mix I like for a few days straight. And then I know the song is done.

Alex: Do you find that to be a big advantage, having a week to fiddle with a song compared to a day to mix the entire record?

Brian: It's good and bad, but yeah, it's an advantage. Some people make great records doing it that way, and I would love to afford to go in and hire someone to do that, but I spent my money buying the gear instead.

Alex: Any ideas on when we can expect the new album?

Brian: That's really hard to say. I'm shooting for mid-2000, but its hard to talk about this, because on the last record the anticipated date was six months sooner because of all the crap that happened with my gear and all. I would like to have something out by year's end, but realistically, it will probably be in the middle of next year before we have something out.

Alex: You recently did a tour with John Doe. How did that go?

Brian: It went really great. He is really, really nice. We drove around, went to dinner and everything. He's a big kidder and really fun to be around. And, lucky me. I mean, he can do a lot more for me than I can do for him. I'm just really grateful he wanted me to go and do those shows with him. Actually, I got a call from him the other day. It looks like I'm going to be going down to LA by the end of the year and doing some stuff for me; most likely guitar, but possibly some vocals -- I don't really know what he wants. I'm really excited about that.

Alex: Are your solo shows another way to expose people to the 44 Long material or is it something you want to do separately, possibly in conjunction with a solo album?

Brian: It really isn't anything. If I ever got to the point where I was famous and people would shut up and listen, I would go for it. But, doing that thing [the tour with John Doe] and hearing everyone talk, hearing forks hit the plates...it's great when it works, but doesn't get across the meat of the song when you hear all that background noise. This time it went fairly well because we had a nice, loud PA and I didn't get too distracted. Of course, these people paid some good money to hear music, so it wasn't like playing Satyricon at 10:30pm on Friday opening up for two rock bands. I won't do that anymore; it's not fun. Plus, the thing I am trying to sell is 44 Long. So, the answer to the first part of the question is yes.

Alex: You said you cut some acoustic tracks, just you and a guitar, right? Have you ever thought about putting out a solo album?

Brian: That will undoubtedly happen, because I've got a good, solid set of that stuff. But there is the economical aspect of it and it just seems off the tracks when you're not really some famous guy putting out solo records as well as your bands. It's kind of pointless to me, though I shouldn't say that. I mean, a great record is a great record no matter how and why.

Alex: Are the bulk of your sales in the NW?

Brian: Definitely, though, we're getting some really good airplay across the country. We're on the top ten at some college stations across the country and on WFMU on the East Coast, which is a huge radio station that is kind of like KBOO [local Portland community station] that is really eclectic. They've played the first two records. You know, there has been like thirty stations that have been playing it across the country. I'm really excited about this thing in Western Canada that is Radio Net... I should really know more about this stuff, but I'm not really up on the radio play stuff yet. But, you've got to figure it's mostly local. We're half-assed national.

Alex: With Eric Furlong's other band, Sunset Valley, set to release an album in November, what are you going to do once he's not available? Are you going to replace him?

Brian: Well, Jim Talstra has sat in when Eric couldn't make it. But, the record is like six months old and including the two months prior to its release we spent playing this material, I think eight months is plenty. So yeah, our last show that I have planned is NxNW on October 2nd. We may do the occasional thing to stay in practice, but I want the next shows early next year to be ten new songs. I wouldn't expect people to come and see us do the same songs more than a few times; I wouldn't see bands do the same songs more than a few times, generally.

Alex: When all is said and done, where would you like to see 44 Long and what would you like to accomplish with them?

Brian: The impossible dream, I'd love to be responsible for some really good music on every radio station in the world. Realistically though, over the course of four albums or so I'll probably be consistently selling 3,000 to 6,000 records, maybe even 10,000. If I could, by the forth record, sell 10,000 copies it would be fucking great. And, to make a living off of it, of course. I'm not going to go and do a couch tour, I'd be giving up way too much. I have a good business where I make money and help people and I'm expecting a baby, too. So, if someone wants to finance it, I'll go ahead and do it, but its not going to be cheap.