INTERVIEW: Seemless
A rising Metal Troupe (Seemless)
By: Mike SOS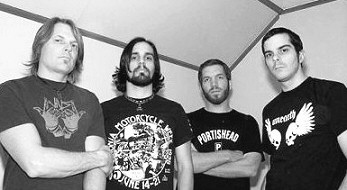 Jesse David, vocalist for rising metal troupe Seemless, left Killswitch Engage at the fever pitch of the outfit's ascendance to metal supremacy, did some soul searching, and joined forces with other members of the incestuous Massachusetts metal scene to complete the riveting quartet aiming to bring back the soulfulness in the heavy music arena. With the band's self-titled debut disc seeing a wider spread re-release via Equal Vision Records, a wealth of airplay on both MTV 2 and college and indie radio, and a unique sound employed by the group that cites Sabbath, Skynyrd, Thin Lizzy, and Kyuss as influences, Seemless are gunning for the same kind of success stories that the band member's past endeavors are now enjoying. When speaking to Jesse via email, the new disc, fitting in, the current state of heavy music, and the seemingly brilliant future of Seemless was discussed. Sit back and enjoy.

MIKE SOS: How did Seemless form?
JESSE: Derek & Pete were in a band called Medium before they lost there singer. At that time, I had left Killswitch Engage for a small list of reasons, and Derek & Pete contacted me via my cousin Will. Pete drove the pre-production CD to my house before we both went to go see Killswitch & In Flames play down the street from where I live. I couldn't stop listening to it, and I knew this was what I wanted to do.

MIKE SOS: What's some of the best and worst things about the MA metal scene?
JESSE: First off, I love that I was adopted into it, because I had never lived in MA. Second, I love that we are all connected. There are so many degrees of separation between KIllswitch, Shadows Fall, All That Remains, Aftershock, Overcast, Arise & now Seemless, and Transient as well, even though were not really metal bands.

MIKE SOS: Has your band member's experience in other prominent metal bands from the area helped or hurt your progress?
JESSE: Yes, initially I think it did. However, some of the fans from those bands don't always carry over to other projects, but the "buzz" doesn't hurt though.

MIKE SOS: How did you guys get hooked up with Equal Vision?
JESSE: We were working with Losing Face Records, run by Lin who works for Equal Vision. Lin could only do so much for us, and we wanted to take it to the next level so EVR stepped in & the have been a Godsend, nothing but quality, passionate, and down to earth people. We love us some Equal Vison.

MIKE SOS: How would you describe Seemless to someone who never heard you before?
JESSE: Rock 'n' roll-soul heavy metal.

MIKE SOS: Who are some of your main influences? Any that we wouldn't pick up right away?
JESSE: Bob Marley, Mike Patton, Allman Brothers, Mountain, Cactus, ZZ Top, Thin Lizzy, and Kyuss.

MIKE SOS: What are you currently listening to?
JESSE: The Quill, (easily one of the best power rock bands of the past 10 years who are being severely overlooked), Of the Hour, Gonga, Israel Vibration, Doom Riders, The new Mastodon, Hidden Hand (Wino's new band), Fiona Apple's new CD that never got released, but you can find it online. It is genius! There's so many more, I don't have room to list them all.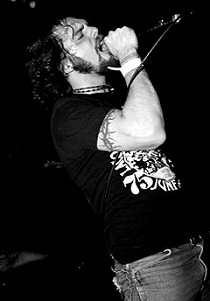 MIKE SOS: Where is your favorite place to play and why?
JESSE: The Lucky Dog in Worcester. It is run by a real cool cat named Eric, who puts his heart & soul into the club. It just has this blue-collar, old time rock feel to it. Every one who works there is great and we sell the place out every time we play. For those people from the Northeast, it is the new club Baby Head. Come check it out!
MIKE SOS: How does a Seemless song get written?
JESSE: Well, the first album was really already written musically by Derek & Pete. I just jumped in and laid vocal melodies and lyrics to it. Now, we all have a say and we have a new bassist Jeff, who is a great rock songwriter with a lot of experience. So, after the three of them jam on their own and come up with stuff, I step in and freestyle over what they come up with. Then, the song starts to take on this organic shape. We play the song out live, feel it out, and the final song will just come to us. It just grows with us until we can all feel that it is done.
MIKE SOS: What was it like recording the s/t release? Any interesting studio stories you'd like to share?
JESSE: Easy. 80% of that album is live minus the vocals. I live like two hours from the studio we recorded at. So in between my two jobs (at the time), I had to find time to get up there. Sometimes, I would just be too tired to give my best performance, so it took me like five months to get it all done. It's not the way I normally like to record an album, but I am happy with the way it turned out.
MIKE SOS: What was the easiest song to record? One that gave the most trouble? One you feel came out the best?
JESSE: "In My Time of Need" was almost a one-take song. "Something's Got to Give" I rewrote three times in the studio. I just wanted it to be a solid song that had a reggae and southern rock feel to it. I think the album as a whole from start to finish makes sense; it feels like a complete album, so it is hard to say that one song is better that another. I love to play "The Wanderer" live though, so that would be a favorite I guess.
MIKE SOS: What separates Seemless from other heavy bands today?
JESSE: We are heavy in an old school metal kind of way. The groove is in the pocket, and the swing just makes you bang you head. We don't rely on the palm muted chugging to make it heavy. It is all about that swinging groove. It's sexy, if you will. We also get a lot of inspiration from the '70s era, but I feel we bring it out in our own way so it doesn't sound retro.
MIKE SOS: How do you feel about the current state of heavy music?
JESSE: Very few bands excite me in "heavy" music, and if they do, nine times out of 10, they are underground bands that are too smart to fit into the mainstream.
MIKE SOS: What can we expect from Seemless for the rest of 2005?
JESSE: We are planning on bringing this to the world. We're aiming high and we'll see what happens. No matter what, we will be putting out honest, soulful heavy metal for a long time to come!
MIKE SOS: When I'm not in Seemless, I'm...?
JESSE: A very happy husband & artist that is currently unemployed and loving it.
MIKE SOS: What advice would you give to aspiring musicians?
TJESSE: Never give up, never compromise, be creative and original, practice, practice practice, and for God's sake, write some uplifting lyrics. There is too much negativity out there as it is.
MIKE SOS: Do you have any final words for the readers?
JESSE: God bless you all and thanks so much for supporting us. We love what we do and we will be doing it for a long time to come. Live your dreams, be yourself, stand for something, and make your voice heard. Strive to show love and compassion to all forms of life, and we will be doing a lot better here on this planet. Peace and love rock 'n' roll brothers and sisters.