INTERVIEW: Sekiden
One of Brisbane, Australia's most established and loveable bands
By: Rebecca M. McNeill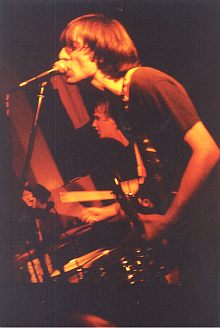 There are moments in every single person's life where seemingly unimportant decisions prove to be historical milestones in our storylines, simply because they are the start of something great. That's exactly how it came about that Sekiden's Mirko Vogel discovered his talent for drumming. "We used to go on these school walks every Wednesday and it was during one of the school walks that we decided we'd have a band. At first there were about 14 people in this band, like there were about 10 guitarists and stuff and I was the only one left so I was like, well I guess I'll play drums." After numbers had been somewhat whittled down to size the band Vapour was born and due to parental connections they had access to a fully loaded recording studio. Quite an intro for a ten year old.

But it's a long time since the days of gigs at the school fete. That chance conversation as a kid has now turned into a place in one of Brisbane's most established and lovable bands, Sekiden. I recently caught up with drummer Mirko to discuss the distant past and the looming future of the Brisband.

Best described as synth pop rock, Sekiden seem to be about creating perfect two minute pop songs and making music with a positive vibe. "Sad music is really easy to make, cos it's easy to be depressed,' says Mirko. "Writing happy songs that don't sound like you're taking the piss can be pretty hard. Basically that's our aim, to make songs that are happy and that make people feel good about themselves when they come to see us."

And there is an undeniable energy that goes along with being at a Sekiden show. From the frenzied drum action to the cute as a button synth riffs, it is impossible not to be affected by the merry making on stage. The band has used their past experience of playing in a Ramone-a-thon tribute show to create "Sekiden Karaoke", the audience participation segment. Here anyone can get up and give their favourite Ramones track a bash. It is just so much fun to be at one of these gigs. "There is so much bad stuff and crap in the world, the last thing you want to do is make people depressed. We'd rather they felt happy even if it's just for the time they're there."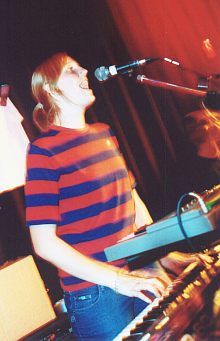 2003 was a big year for the band with the release of their first LP, Junior Fiction. This was followed by a mean promotional touring schedule including North America. "The whole North American culture is very outgoing and enthusiastic," says Mirko. "Everyone just wants to be on TV. So if you've played a really good show and everyone was into it, lots of people come up to you afterwards really excited about what you do, which makes you really excited about what you're doing as well. The all ages shows we played in Canada were awesome, especially in school halls where there'd be three hundred kids in a room with no air-conditioning with a rock band on a shitty PA but everyone's really into it. We'd love to do much more shows like that." To add another feather to their collective caps, the band are chuffed at inclusion of their songs on a soundtrack for a weird American teen cable TV show (" I checked out the website--it sort of looks like 'Saved By The Bell'.") They are set to return to the US and Canada in February where they will play close to sixty gigs over a 3 month period. The tour coincides with the Canadian album release.
The album Junior Fiction is a gorgeous collection of sugary pop songs. This is the perfect confectionary concoction of catchy vocal hooks and 70's poprock guitar riffs. It conjures up visions of hot youthful summers spent in games arcades, playing Pacman, sucking on rainbow drops and sherbet bombs. They manage to create the authentic sentiment of kitsch childhood reminiscence without turning that feeling into a parody.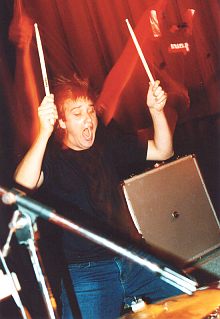 The band recorded with Brisbane produce Magoo in his studio in Newstead. (Magoo approached the band after seeing all their 'cool gear' at a mutual friend's house.) Although Sekiden music is largely preoccupied with romanticising robots and computers, the recording process was almost an antithesis of this. "The big thing with working on computers is the temptation to fix mistakes in your playing. When we recorded the rule was if you made a mistake we couldn't fix those mistakes. We had to treat the studio like a reel to reel studio where you don't have the option to fix. If you messed up your part you just had to play it again. Otherwise you kind of lose the mojo of being a rock band if you get to clinical about it.'
The interview progresses and we discuss the whole niceness of the Brisbane music community, the possibilities of convergent local music projects and the importance of just having a ripper of a time. All in all, you get the impression that Mirko is a diehard optimist. "I don't understand why people complain about the state of live music so much," he says. "I think people should just get on with the job a bit and stop getting caught up with why it's hard to get a show because it's not. If people want to do it they can do it. Why do people look for freedom in things they already have? Why do you need to get a big record deal when you can just burn 50 copies of a demo you've made and give it to all your friends and then you'll have 50 people turn up to your show. Why think that you have to be all corporate? You already have the freedom to do all of those things on your own. Why would you want to play huge shows when you could just play shows to your friends? Because in the end, it's all about your friends. You have success cos they care enough to show up, and through your friends' friends more and more people show up. Then those people might see you on the street and say 'hey you're that guy, I saw you play--' and you become friends with them.
With attitudes like that it's really hard not to love them and the purity of what they are trying to achieve. And this is why the future looks so bright for the trio--they are just so damn likeable.
And so as we're wrapping things up I can't resist asking few silly, trivial questions. One of which is regarding new years resolutions. "To learn my times tables--"Mirko laughs. "Just my 7's, 8's, 9's, and 12's."
See? How likable is that?