INTERVIEW: Dirty Americans
Bringing back the retro sounds of the '70s (Dirty Americans)
By: Mike SOS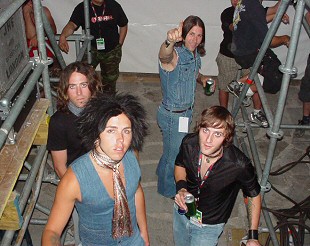 Bringing back the retro sounds of the '70s, Detroit quartet Dirty Americans have finally hit American soil after making a splash in Europe with their debut disc, STRANGE GENERATION. Blending badass riffs, psychedelic rhythms, and balls to the wall attitude, these guys are single-handedly reviving the rock scene. When speaking to vocalist Myron via email, everything from his former band The Workhorse Movement to his new outfit's views and touring schedules were touched on. Dig in and feel the love firsthand.

MIKE SOS: Describe the transition between being in The Workhorse Movement and Dirty Americans...when did you decide to start DA and when did you realize TWM was done?
MYRON: I was pretty loaded at the last Workhorse show in Detroit, and somehow the next morning, I just knew that the band had broken up. Nothing was really said, there were just a bunch of things pulling us apart. The next thing you know, a couple of members are gone, and I'm back in the real world. I think that lasted about a month when Freedom called and said he and Pete wanted to write some stuff. We were living about three hours apart, so we started sending files back and forth through Napster, using the instant messaging there, and we were writing like we were in the same room. I ran across Jeremiah on Detroitmusic.com and Freedom set up a jam session which lasted about five minutes before the cops came, but we new and never considered anyone else.

MIKE SOS: What are some of Dirty American's influences? Any we wouldn't pick up on right away?
MYRON: There are some bands from around Detroit that have influenced me that people may not have heard of. Cactus was one from the 70's that had such a wicked sound, check "One Way or Another". The Mog Stunt Team 555 was a furious project in the mid 90's that still can't be topped live as far as I'm concerned. They were responsible for all the John Tesh is an alien stuff, they used to protest John Tesh concerts, saying his music was turning our brains to mush and that it was all due to forces outside our solar system. I think Matthew is playing guitar for Robert Bradley now (check out the track "Boredoms vs. Sabbath"). Speedball was another from Detroit that knew how to write a song that sounded like it could only come from Detroit ("Get on Your Hog and Ride!!!").

MIKE SOS: How would you describe the band to someone that has never heard of you before?
MYRON: Soundtrack to a night of beer drinking and hell raisin'!

MIKE SOS: What songs off of STRANGE GENERATION were the easiest to record? Toughest? One you feel came out the best?
MYRON: For me they were all pretty much painless. I think over the two months we were in Memphis recording, I couldn't have spent more than three to four hours on the mic total. Which means a lot of Playstation 2 and GIRL GONE WILD. I think "Dead Man" was probably the one that evolved the most in the studio. We were taking ideas home at night, brainstorming a joint or two and for me, that one is the coolest, just because of Freedom's vibed-out solo on it.

MIKE SOS: How has the American response been opposed to the European response of the album?
MYRON: It really seems to similar, we're getting a lot of "thanks for playing "ROCK" again kind of stuff, so as long as that's going on, we're happy as all hell.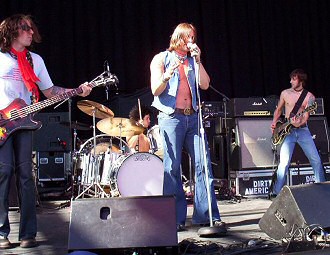 MIKE SOS: How did you guys land on Liquor and Poker and how has it been thus far?
MYRON: The head of A&R at Century Media happened to be in Germany on vacation and ran across us playing one night in Cologne. Next thing you know, our manager's telling us they made an offer to buy the album from Roadrunner for release in the US on their new rock imprint and here we are. They really seem to be stirring up a lot of trouble for us!
MIKE SOS: What are your touring plans for the next six months?
MYRON: We're hoping that it's more like 12, 14, 16 months. We've been really fortunate to be offered some massive tours. We were offered the KISS tour last summer, but were already committed to tours in Europe. We came back and got the Alice Cooper tour here and the Ted Nugent tour over Christmas, so we'll be doing more of the same. We hit it off crazy with Silvertide in Japan, so we're trying to work out something with them.
MIKE SOS: What are you currently listening to (new, old, whatever)?
MYRON: I've had Kyuss (Josh Hommes' old band) RETURN TO SKY VALLEY in my truck for weeks. I get into kicks like that and don't want to listen to anything else.
MIKE SOS: If hard pressed, what rock band would you guys compare yourselves to?
MYRON:I think we're somewhere in the same region of space as The Guess Who, Foo Fighters, and maybe early STP.
MIKE SOS: What bands would you like to tour with that you haven't yet? What has been your best show thus far?
We've never played with Queens of The Stone Age, so that would be cool for me as far as being a fan of theirs. I'd feel pretty cool playing with The Mars Volta, too. As far as best gigs, that one's hard. The show we did in Turin, Italy with the reunited Stooges and us was a big high. 35,000 drunk Italians getting down. Tokyo with Green Day, Beastie Boys, MC5, Silvertide, and The Go-Go's had 93,000 fans. A ridiculous party! I got drunk with Belinda, and she's still sexy as hell.
MIKE SOS: When I'm not playing, I'm...?
MYRON: Wishing I was playing. I did a stint teaching at the school near here while we were waiting for the album to be mixed and put together. The anatomy/physiology teacher quit the day before school started, and I know the principal. He knew I had enough credits toward my chemistry degree to do it, so he asked if I could take the class over until they found a permanent replacement. Yeah, it was weird!
MIKE SOS: Where is your favorite place to play and why?
MYRON: I think the place where we started at, on CMU's campus. It's a nasty, dark blues bar called Rubbles, and the vibe is so good that you can barely believe it when you're on stage.
MIKE SOS: Studio or gig?
MYRON: GIG, GIG, GIG!
MIKE SOS: What would you like Dirty Americans to accomplish?
MYRON:I love to never feel like I have to work again. Let's face it, that's everyone's dream.
MIKE SOS: Any words for the fans?
MYRON: If you have the album, get your favorite buzz on and listen to it through some good headphones, not those bullshit in ear things, the big one's. It'll be sweet!