INTERVIEW: Dokken
Dokken Rhymes with Rockin'
By: Randy Harward



No score and 20 years ago (or is that one score? Heh-heh. I said score), a killer fuckin' band burst onto the burgeoning L.A. metal scene. Armed with sleek three-part harmonies, widdly-widdly-wow guitar solos, a blow dryer and a vented hairbrush, Dokken would come to rule supremely as fuckin' Metal Gods. But they wouldn't really rule for long because in 1987 tensions between guitarist George Lynch and the band's namesake, vocalist Don Dokken, would reach a level higher than that reached in the pressure cooker at Taco Bell (you know, that's what they use to make those killer refried beans) and the band would split like Meat Loaf's pants.

In 1992, the band would reunite in an effort to ride out the plaid wave of grunge, but music buyers' tastes had already changed. In the eyes of many, Dokken sucked. In the eyes of the rest, Dokken still ruled. So, 20 years after they released their triumphant first album, Breaking the Chains, 15 years after the first breakup, 10 years after the reunion and 5 years after the second breakup, Dokken comes back with a vengeance, two original members and a new album titled Long Way Home.

Don Dokken recently spoke with Randy Harward about the new album and how Dokken still rules on the other side of popularity's harsh-ass bell curve.

Don Dokken: Hi, this is Don Dokken--is Randy in?

Randy: This is Randy.

DD: Hi, this is Don. I was supposed to call you at 1:30, I think?

R: It's cool, how Dokken rhymes with rockin'. It's like you were destined to rock. It's also cool that you didn't go and change it to Rokken, like some guys might have, back in the day. You just let it be implied. Cool.

DD: What? Change my name to Rokken Dokken? I don't understand.

R: We'll just move on.

DD: I don't get it [laughs].

R: [Longtime bassist] Jeff Pilson is not in the band anymore. What happened with that?

DD: I think, musically, he changed. He wanted to do a solo record, so he did. He's got a band and you can't be in two bands at once and tour at the same time. Then that movie Rock Star came out, I guess, a few months ago, and stuff like that. Honestly, I mean, he just got burned out on the style of music Dokken makes and has made for twenty years.

R: Vocal harmonies were always part of Dokken's appeal, with you and Mick and Jeff. How has that changed?

DD: The new bass player [Barry Sparks] sings great. People always said they liked Breakin' the Chains, the harmonies. Keep in mind, that was before Jeff. We still sound like Dokken anyway.

R: So does your new guitar player, John Norum, sing, too?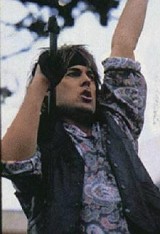 DD: Yeah, John did all lead vocals on all his solo albums.
R: So it's better than ever, would you say?
DD: Well, you'll have to come see us to check it out for yourself.
R: So is John the fourth guitar player in Dokken?
DD: --no--.
R: So it was George Lynch, then Reb Beach from Winger, then John.
DD: Yeah.
R: Did Reb replace George?
DD: John played with me for three years, when I did the "Don Dokken" thing. He also played a tour with us a couple years ago, before Reb. He wanted to do the last album, but he had solo commitments so he couldn't do it. Same thing with Reb. Reb wanted to do a blues album and I said, "cool," because he's a great blues player. So John's from Europe and he's a European guy, so he likes us and wanted to do it.
R: You know what would be really cool? If you got Eddie Van Halen on lead guitar. And then maybe Alex Van Halen on drums and maybe Michael Anthony on bass. Van Dokken. That'd be pretty cool, don't you think?
DD: Actually, I think that'd be great [laughs].
R: And maybe you could get Dave or Sammy to sing.
DD: Mmm-hmm. Yeah--
R: Then all you'd need is a triumphant video.
DD: These questions are way over my head.
R: We'll go back to guitars then. I used to read all the time how you were frustrated because, when George was in the band, you couldn't play guitar live. What was behind that? Was he insecure?
DD: He was too good, I guess. He didn't mind if Jeff or Mick played guitar, but he didn't like me playing guitar. It made him nervous. So, I took it as a compliment.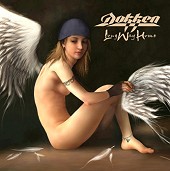 R: You've got a new record coming out [Long Way Home]--wanna pick a few songs and talk about them?
DD: Yeah, there's a song called "Everybody Needs to Be With Someone." It's just a sarcastic song about people who stay in bad relationships and can't figure out why they're miserable. They'd rather be in a miserable relationship than no relationship. And there's a song called "Little Girl." It's a real cool song, it's very Beatlesque. Kinda sounds like A Hard Day's Night, kind of a trippy metal, heavy metal, kinda "Kashmir" Zeppelin influence. It has strings. It's about a girl who gets into drugs and her whole life goes in the toilet.
R: How has the bell curve of popularity changed you? Is it easier to be Don Dokken now?
DD: We were luckier than most. We've done it twenty years and when we broke up the first time, we were doing stadiums. A lot of those bands kept going on and the kinda went down that bell curve from stadiums to arenas to clubs to nothin'. When we came back together, we ended up still doing arenas and playing with people like Alice Cooper in Europe and headlining big places. In America, we can't. We did an arena tour last year with Poison, Cinderella and all that, but it's easier now, because we're not trying to make it or prove it or get somewhere, because we've already been there. I did it. I've sold my ten million records. I'm happy. I'm grateful. I'm thankful that I got to experience that feeling of standing in a stadium in front of 100,000 people just totally rockin' out to us. We've been there. Now we do it because we're having fun. We don't need to do it for the money.
R: Okay, one final question. Which of the following euphemisms for 80s metal do you prefer: hair metal, ass metal, mousse metal, butt rock or cock rock?
DD: Cock rock.