SHOW REVIEW: Tegan and Sara w/ The Ditty Bops
Aladdin Theater - Saturday, March 26, 2005 (Portland, Oregon)
By: Alex Steininger



Taking place at the Aladdin Theater, in Portland, Oregon, a cozy, comforting venue with seats as well as plenty of room to stand in front of the stage if you so desire, even with a packed house, it still felt as if you were with family tonight. The person next to you, and the person next to them, witnessed two phenomenal bands, The Ditty Bops and Tegan and Sara on this night - all with family.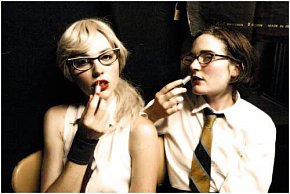 I hadn't heard of the Ditty Bops until the night before the show, when Warner. Bros., their label, sent me, overnight, a copy of the band's self-titled debut. I was impressed with the duo - Amanda Barrett (vocals, washboard, mandolin and dulcimer) and Abby DeWald (vocals and guitar) -- and their sound, which can remotely be described as western swing-meets-ragtime-meets-early jazz, all thrown together with a Vaudeville feel, and pop sensibilities.
Hitting the stage promptly at 8pm and playing for forty-five minutes, the Los Angeles duo delivered spellbinding, danceable melodies and crisp, glowing harmonies alongside their retro-renewed sound that took the sold-out crowd by storm.
Contrasting the mellow, light-ness of The Ditty Bops' sound was none other than Canadian duo Tegan and Sara, who came out roaring, supporting their latest album, So Jealous (Vapor/Sanctuary), and playing to their first-ever sold out, headlining crowd in Portland, Oregon.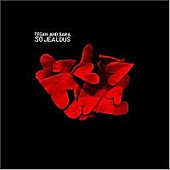 Delivering witty banter between each other -- something you come to expect, and love, from the sisters -- while uncomfortably, yet charmingly speaking to the crowd in-between songs, it is hard not to resist, and fall in love with the two.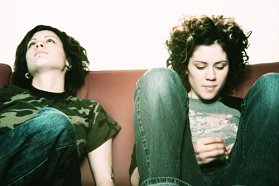 As they told stories about their family and the day's events, the other began picking on the one telling the story, claiming it to be boring or going nowhere, making you melt as the girls prepared for their next song; the crowd feeling more like friends of the band rather than just audience members.
Their vocals on the mark and the harmonies soaring, with their band in tow the duo poured through such should-be hits as "Speak Slow", "So Jealous", "Walking With The Ghost", and "You Wouldn't Like Me", off their new album, as well as plenty of material from If It Was You, the record that delivered critical praise and national attention to the band, including "I Hear Noises" and "Monday Monday Monday".
The songs were crisp and fresh, delivered with buoyancy and confidence. Though, at times, played faster than their recorded counterparts, the result of excitement, as Tegan and Sara seemed to be feeding off the crowd, which was in complete joy over the band's performance.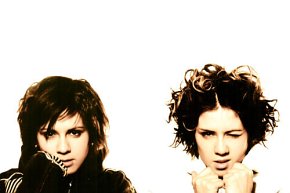 They even managed to whip out an unknown (at least to me) new song while covering their two most widely known albums with sufficiency. The sold out crowd was not let down, but treated to a lively, entertaining, and always engaging performance from these two rising stars.
Now, their next goal is to move up from the Aladdin into a bigger venue, but still retain the relaxed, mellow vibe of the theater -- to an even bigger audience. It will be interesting to see if they can do it.