Juniorboys
Last Exit (Kin Records)
By: Nick Mlatchkov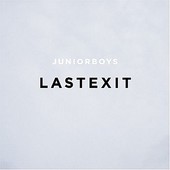 If this double album symbolizes yet another generation entering a permanent state of depression, I can get the critical appraisal it's received. Minor tones are emphasized through beats and lyrical lines. JUNIORBOYS are Matthew Didemus and Jeremy Greenspan, two Hamilton, Ontario kids obsessed with creating computer heartbeats. There's no exceptional vocalizing on this record but lyrics recited over preprogrammed machine pounding. "Birthday" could be named the hit off the CD, built over a catching melody. "Under the Sun" borrows heavily from P. Floyd's "Another Brick On the Wall" but it's highly unlikely they'll face a lawsuit.

The last 3 cuts consist of the most courageous part of the album. "Three Words", "Teach Me How to Fly" and "When I'm Not Around" are quite dreamy and poetic, which could be considered as a departure from the rest, enriched with some sax and bass clarinet played by David Levy.

The second disc features remixes of Last Exit and "Birthday" by Fennesz and a fellow Hamiltonian, Manitoba who has established himself as a cult figure among the DJ-influenced youth so it's only natural he's been chosen to do that.