Junior Delcado
Fearless (Gee Street/Big Cat Records)
By: Alex Steininger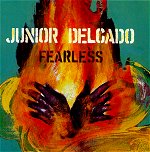 With his first new album in a long time, Junior Delcado brings his impressive reggae skills together with the new millennium. That's right. There is reggae, and then there is Junior Delcado's futuristic reggae. A combination of electronica, reggae, hip-hop, and dub, FEARLESS is the reggae of the future. Truly innovative, and inspirational, hearing Delcado's reggae tongue on top of some fast electronica beats is quite the ear candy.

Electronica has its roots in dub and reggae. It is basically a 'futuristic' spin off of Jamaican branded music. But what is so amazing about Junior Delcado is the fact that he is one of the first musicians to openly acknowledge this in his music. More than acknowledge it, he blends it into own crucial sound.

From the hip-hop shake of "Buffalo Soldier" to the straightforward reggae approach of the title track, back to the electronica tingle of tracks like "Hypocrites" and "Armed Robbery," there are no two tracks that are alike on this album. It even offers up some dub beats on "Streets Desire." You can't pigeonhole one song with its vast musical influences, let alone the whole album. One minute you're listening to some hip-hop, and the next some dub, so unless you've got the album memorized backwards and forwards, you're never going to know what is to hit next

The spontaneous flavor of the disc, along with the eclectic state of mind, are two of the biggest contributors to why I love this album. Of course, the warm reggae feel is a big plus. As I sit here and fear the new millennium and where technology is taking us, artists like Junior Delcado are embracing it and taking full advantage of it (if not leading the way). I'll give this album an A.