Wilco
A Ghost Is Born (Nonesuch Records)
By: Alex Steininger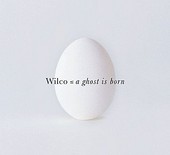 What can be said about Wilco's fifth full-length, A Ghost Is Born, that hasn't been said already? Not much. It was one of the best records of 2004, and though my review is quite late, it is still well deserving of my praise.

Taken out of my review pile and never making it back to that pile (too busy spending time at the office, the car, or in a stereo somewhere), A Ghost Is Born got, regrettably, overlooked by me when it came to reviewing it. Even though I had planned - and slated - it for review so many times.

But here I am, and a review now, more than half a year after it has been released, is better than never, right?

Now, many people could sit there - and do - to debate whether A Ghost Is Born is as good, or better than its predecessor, Yankee Hotel Foxtrot, the highest praised album of 2002 (the year it finally saw the light of day).

And though it may not be as good as Yankee Hotel Foxtrot, something you can't hold against the band because, well, after the huge praise that album received, you'd expect anything the band did to follow it up with would be heavily scrutinized and picked apart. Thus leaving the band in an awkward, stressful position to one-up themselves only to fall short.

The sophomore slump, even though it is not their sophomore record.

However, Tweedy and company seemed unfazed, or used the pressure to their advantage, and cooked up a gem in A Ghost Is Born. Another record that finds their rustic, airy brand of pop-rock, experimental pop, and Americana in a lively and inventive form.

A Ghost Is Born delivers such timeless pieces as the haunting, whispery piano pop of "At Least That's What You Said", which transforms into a collage of piano and 60s guitar-rock halfway through the song. The bouncy, infectious quirky pop of the ten-minute number, "Spiders (Kidsmoke)", torched up with an experimental rock edge that gives the song its vitality. The folks-y pop of "Handshake Drugs", with a nice indie-rock shine beaming off of it. And the noisy, straight-ahead rock song gone quirky, "I'm A Wheel".

Also deserving of a mention (besides the whole album), is the rocked-up piano-pop of "Theologians", a beautifully crafted song that finds love in both AM radio and arena rock of the 70s, melding the two, twisting them up, and meshing them together - as only Wilco could.

It may not be Yankee Hotel Foxtrot, but A Ghost Is Born is still a record that will haunt you, delight you, and make you feel love more than a few times. Lyrically naked, musically challenging and highly palatable, and delivered with both charm and fragility, Wilco has carved out yet another record that will become a priority on many desert island lists. I'll give it an A+.