Vulgar Pigeons
Imperialism (Willow Tip)
By: Jeb Branin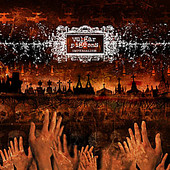 VULGAR PIGEONS is one of my favorite grindcore bands and one listen to Imperialism should clarify why. This is how grind was meant to be played. It is so over the top, it is halfway down the other side. It is so intense that people in ill health would be well advised to avoid exposure to even a single V.P. track.

This is so unrestrained that it is better described as "anti-restrained." The explosive power displayed on this CD is so absolute and unparalleled that it is being studied by scientists as a means to quantify the Big Bang Theory. Dual vocals, machine gun drums, belching bass and roaring guitars have rarely sounded so deviant and severe. To not own this would be a mistake tantamount to bathing in gasoline while smoking a cigar.