Vykki Vox
Woman's Touch (Webrock Records)
By: Alex Steininger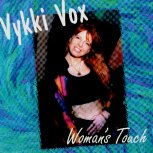 On her new EP, WOMAN'S TOUCH, Vykki Vox mixes jazz, blues, and some pop to form her own style. Along with her co-songwriter, Dave Osoff, they help steam up the bar while having some fun.

When I first popped this disc in, I was taken away by Vykki's voice. She had a nice voice, which complimented the music perfectly. The music was a soft jazz tingled pop sound, while at times it was also jazzy-blues. It's got that dark, smoky sound to it, which paints a vivid imagine of this band playing at a dark night club while you sit down and kick a few back with some friends in your head. Looking up on the stage, you see a band having fun while they help kick off your weekend, especially after all that hard work that you so desperately need a break from. Jumping between slow, sensuous numbers to more up tempo pick-me-up'ers, Vykki Vox has a song for every occasion and for every mood.

This disc may only be an EP, but at twenty two minutes you get a real taste of what they are all about. With the repeat button on you'll be able to kick back and just relax to this music, as its soft sound slowly seeps into your body and puts your nerves at ease. On disc they are good, but from just hearing them I imagine them to be very steamy live. If you're looking for something with a jazzy-bluesy feel then this disc is for you. I'll give it a B.