INTERVIEW: North Mississippi All-Stars
A live album out now, a new album on the way, these all-stars keep shining
By: Alex Steininger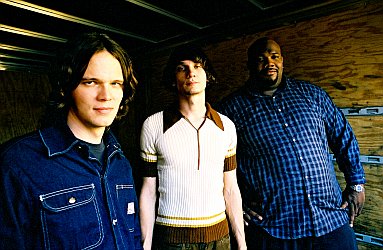 The North Mississippi All-Stars' fans have asked time and time again for a live recording from the band. And their calls were answered following the band's June 11, 2004 performance at Bonnaroo. Recorded live in Manchester, Tennessee, Hill Country Revue: Live at Bonnaroo captures the North Mississippi All-Stars at their best. And they brought some friends with them, too.

Dubbing the band, with friends, the North Mississippi Hill Country Revue, the brothers Dickinson (Cody and Luther), founders of the band, as well as bassist Chris Chew and keyboardist JoJo Hermann, were joined by their legendary musician/producer father Jim Dickinson, as well as three generations of Burnsides, from R.L. himself to his songs Duwayne and Garry, as well as R.L.'s grandson Cody.

Making it even more of an event, Othar Turner's Rising Star Fife and Drum Band, carried on by Othar's grandsons, also sat in on the set.

"It was a free-for-all, lie down and play it," recalls bassist Chris Chew. "We never rehearsed. Every musician on stage was a professional, and nothing they did was so hard."

Truly a memorable, if not legendary set ("It was R.L. Burnside's last show", Chew tells me), the show warranted a live album, something the band couldn't agree with more.

"Luke and Cody had it planned form the beginning," says Chew of the hootenanny. "We did Bonnaroo the last two years and needed something different. We couldn't just get up there and play ourselves, so they came up with this idea and it worked well".

"We had recorded some live shows before and nothing worked," Chew informs me. "So we thought we'd do the Bonnaroo show regardless and it worked."

And worked it did.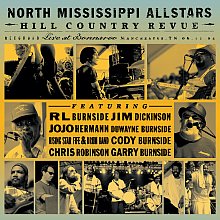 From their nod to Fred McDowell, the blues guitarist who is the godfather of the contemporary Hill Country scene, on the opening track, "Shake 'Em On Down", to R.L. Burnside's classic "Jumper on the Line", through father Dickinson's "Down In Mississippi" (an obscure J.B. Lenoir song that the Dickinson family has resurrected). To Chris Robinson's (of the Black Crowes) vocals on "Boomer's Story". And closing with a cover of R.L. Burnside's "Going Down South", the show is a tour de force of Hill Country blues music that has inspired and influenced the brothers Dickinson and their outfit, North Mississippi All-Stars.
"It was a great hour show," remembers Chew. "It was like storytelling. It begins at the start and ends at the end. The songs tell a story. It wasn't planned, it just happened."
Following the live show, the band got to work on their next record, entitled Electric Blue Watermelon.
"The record is done now," Chew tells me. "There will be ten tracks. And I think it turned out great. I like the whole record".
"Electric Blues Watermelon will have more elements in it, more blues-rock, more straight elements," says Chew of the forthcoming record. "It will be more of what we're about."
Electric Blues Watermelon will be released on ATO Records in April. Following the album's release the band will hit Canada, England, and Japan, and then come back to the U.S. They are touring up until the album's release right now.