INTERVIEW: Neurepublik
Electro Chakra Therapy. An Interview with Jeff Crowell (Neurepublik)
By: Sonya Brown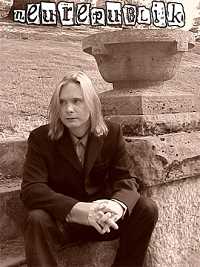 Futuristic. Danceable. The new EP released by Neurepublik, "Electro Chakra Therapy" is a gothic/industrial synthpop EP consisting of 4 tracks, and one hidden track. Neurepublik is Jeff Crowell, an adept electronic musician citing some 13 years experience in dark electronica.

I had the pleasure of asking Jeff about Electro Chakra Therapy, and about Neurepublik...

Sonya: Can you tell me about the equipment that you use?

Jeff: Well, I work out of my home studio using the equipment I've amassed over the past ten years or so. I guess the best way to tackle this question is to give you a laundry list of the gear: Korg Polysynth, Ensoniq Mirage, Casio FZ-1, Roland PMA-5, Boss Dr. synth, Boss Dr. rhythm, Korg Triton, Roland MC-50, Roland VS-880EX, and a Powerbook with lots of goodies. Oh yeah, and a Washburn electric guitar. Interestingly enough, probably 90% of Electro Chakra Therapy was done with the Triton.

Sonya: How did you come up with the name Neurepublik (and Electro Chakra Therapy!)?

Jeff: I get that question a lot (where the name Neurepublik comes from). Back in 1996, a friend & I started experimenting with making music. We got the first incarnation of our name "The Republic" from a billboard we saw for Republic Airlines. Somewhere along the line, I added the word "new" and we were "The New Republic". A few years later, someone pointed out to me that there was a political magazine called "The New Republic". I didn't want anyone to think we stole the name, so I opted for the German variation, "Neurepublik". It's stuck rather well since then. "Electro Chakra Therapy" is quite simply a play on words derived from "Electro Shock Therapy". You could delve deeper and see it as electro music to please one's chakra centers. The title originated a while back when I submitted the name to Kristy of Nilaihah Records, who was soliciting ideas for titles for the compilation that is now known as "Resistor". When I was trying to think of an idea for an EP name for Neurepublik, I remembered that one & used it.

Sonya: Can you give me any insight or information about the hidden track on Electro Chakra Therapy?

Jeff: The fifth track is only on the promo discs I send out. It's a cover of an old Simon & Garfunkel song called "A Hazy Shade of Winter" off of their "Bookends" album. Ivystone Records (www.ivystone.com) is planning a Simon & Garfunkel tribute this fall & it's my submission for that project. They have yet to announce the line-up for the disc, so I can't tell you yet if it's "made the cut". If so, it'll be on that cd.

Sonya: Can you tell me anything about the samples used in the track "Hidden Sanctuary"? Is this more of an industrial edge? It seems to soften a bit towards the end. It's rather diverse.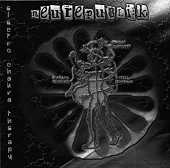 Jeff: (hehe) - The samples from HS! Mike V. of the Hidden Sanctuary radio station on mp3.com (www.listen.to/hiddensanctuary) swears that those samples at the end are spooky because he can't quite understand what they're saying (ha). They come from an old 70s scifi film called "Logan's Run". In the film, the main characters were looking for a place called "sanctuary", so it worked in quite well. The song was definitely inspired by Mike's group. I've always thought that hidden sanctuary is an awesome name & wanted to make a song of the same title. I set out to make a sort of "theme song" for the group and in doing so, wanted it to reflect the gothic industrial majority of the group. I wanted it to have a bit of an epic quality to it, so it doesn't really stick to any set form throughout. It starts a bit slow, builds, and gets more mellow at the end. It's also quite long (six or seven minutes, I believe). I completed it at a time when there were some unsavory things going on within the hidden sanctuary (which I won't really go in to) and I wanted to show Mike my support for both him and the group.
Sonya: Who are your influences?
Jeff: Well, I've been around for a while so many of them are quite "old school": Information Society, Depeche Mode, New Order, Moev, Nitzer Ebb, Bigod20, Skinny Puppy/Cyberaktif/The Tear Garden/Hilt, Cause & Effect, The Icicle Works, Torch Song, Kraftwerk, The Klf, Duran Duran/Arcadia, Japan, Clan of Xymox, The Cure, SPK, Siouxsie, Gene Loves Jezebel, Chris & Cosey, Severed Heads, The Pet Shop Boys, Gary Numan, The Police, Jane Siberry, Pink Floyd, The Velvet Underground, kmfdm, Book of Love, Celebrate the Nun, s.p.o.c.k., Tangerine Dream, PWEI, Soft Cell, Jesus Jones, Berlin, Mike Oldfield, U2, EMF, The Beloved, inxs, fla, Camoflague, Ultravox, Single Gun Theory, Platinum Blonde, Meat Beat Manifesto, Chemlab, Bauhaus/l&r/Peter Murphy, Lords of Acid ... god, there's too many to mention & be sure that I get them all. Basically, anything cool from the 80s and early 90s - I'm a huge fan of music & surely get influence from all of it. As far as more contemporary influences, I draw a lot from their work as well (bands such as Apoptygma Berzerk, Wolfsheim, Forgiving Iris, Decoded Feedback, Informatik, and Faith Assembly to name a few). Actually, I truly feel that anything an artist listens to and likes eventually makes it's way into their compositions in some subtle form or another. I think that diversity of influence is what makes the Neurepublik tunes sound unique.
Sonya: Do you have any other projects that you involved in now - or that you have been involved in?
Jeff: I have a little side thingie called "Synthanasia" where I toy around with electronica. I'm also trying to get into scoring music for television commercials, but it's a tough biz to get established in.
Sonya: What is Godfetish about? This is an interesting track!
Jeff: Godfetish poses the argument that perhaps one should go against traditional thought regarding a supreme being. It asks the listener to consider looking inward for enlightenment to find the god inside of themselves. As the vocoder-laden chorus says, "look inside your heart - inside your soul - find the god inside of... - everyone's a god - I am god, you are god, and we are god." Incidentally, it's the first track I used the Korg Triton on.
Sonya: Do you know when will the full length be out, and what it will be called?
Jeff: I would love to put out a standard 10 song album sometime in the near future... if all goes as I'd like, I'd like to possibly start my own little "label" just for my projects and take all the stuff from the last 2 eps along with 4-5 new songs & put out a proper cd. As far as a title, I have several ideas, but my current favorite is "gotik neuromantik".
Sonya: Will you be doing any touring?
Jeff: I am this very week working on the technical side of the Neurepublik show. I'm waiting with baited breath to hear from CMJ about the CMJ marathon application I've submitted. If I get in there, I'll get to play in the musicfest in NYC. I should be all good to go in a couple of weeks & at that point, I'll play anywhere that people would have me :)
I find it interesting (and appropriate) that some of the samples used on this EP are from the movie "Logan's Run" - where inhabitants of a futuristic world search for sanctuary. Electro Chakra Therapy is a futuristic and very danceable work where listeners can find their own personal sanctuary.