Sonic Youth
Corporate Ghost: The Videos (1990-2002) (Geffen)
By: Alex Steininger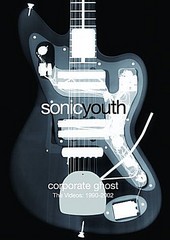 Featuring twenty-three videos from Sonic Youth, done between 1990-2002, as well as three hours of commentary and interviews by the band and those close to the band, a photo montage by Spike Jonze, and a letter film document from a fan. Corporate Ghost: The Videos is a nice offering from Sonic Youth and Geffen Records, their label, giving fans (and collectors alike) some valuables on one DVD, making it a nice addition to any music fan's DVD collection.

It is a documentation of their major label days, a period that further explored their creativity and vision, and helped place them as one of the top influences in rock 'n' roll. I'll give it a B.