Reno 911
Complete First Season (Comedy Central)
By: Alex Steininger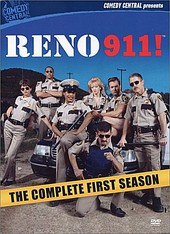 Reno 911, featuring former cast members of The State and Viva Variety.

You know, I used to be a big fan of Cops, the first reality TV show, and the show in which Reno 911 mocks. However, Reno 911 is much more entertaining, and a lot funnier. Coming from such cult classics as The State and Viva Variety, there is a lot to live up to here. Thankfully, the seven core cast members of Reno 911 manage to do so with flying colors, and then some.

Including audio commentary from the actors, alternate and deleted scenes and, of course, the entire first season, this two-disc finds Reno's finest in awkward position after stupidity takes course.

Watch as those sworn to uphold justice and protect and serve the great city of Reno. Lt. Jim Dangle, Deputy Garcia, Deputy Williams, Deputy Junior, Deputy Wiegel, Deputy Jones, Deputy Clementine Johnson - live up stereotypes, let dangerous criminals free, and basically endanger the lives of those they are supposed to protect. With hilarious results!

The show is pretty straight forward, but the characters are both simple and complex, with intra-office tensions, and other mayhem-filled adventures leaving plenty for us to laugh and joke about.

If you're a fan of reality TV shows, this is a must. And if you hate reality TV shows, this is your antidote. Reno 911 has something for everyone, and though some moments may offend you (who are these people that just don't get the humor?), there are plenty of other moments you won't be able to ignore - and laugh your ass off hysterically.

I'll give it an A.