Live Forever
The Rise and Fall of Brit Pop (First Look Home Entertainment)
By: Alex Steininger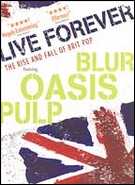 Oasis once claimed they were as big, if not bigger, than The Beatles. And there was a time when this may have been true. Live Forever: The Rise and Fall of Brit Pop documents this nicely. Telling the story of Blur, Oasis, and Pulp, the three big Brit-pop bands that helped revive the British invasion in the early nineties, Live Forever shows you the beginning, the highlights, the decline, and the fall, taking you on a ride of supremacy to sagging record sales.

Oasis'Definitely Maybe, their debut, helped jump start the period. Watch and listen, hear from the people that were there, get their thoughts, and then keep following the progression, and regression, as things build up, just to break down.

If you're interested in the Brit-pop story of the early to mid-90s, you're a fan of Brit-pop, or just want to hear a story. A universal story that could, at one time or another, describe any "trend" in music, than Live Forever is a good film to indulge in. Even if you're not interested in Brit-pop, the story line, hype, and eventual throwaway tendencies of the U.S. are explored here and make it quite interesting, at the very least. I'll give it a B+.