Losing Aaliyah
Unauthorized Documentary (Azure/MVD)
By: Randy Harward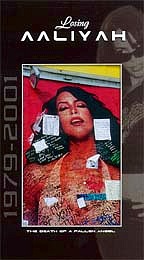 Granted, Aaliyah may have been one of the high-end R&B artists, but these days, 'R&B' and 'artist' are an odd pairing. After all, R&B is a producer's style; the face or voice is rarely the source of the music. Furthermore, it's one of the most image-oriented disingenuous styles on the planet, far from the days when Motown and Stax/Volt put out R&B that actually had soul. Today, the genre is worth little, with few exceptions.

Losing Aaliyah, then, is shitty on two levels: First, see above. There's no reason to deify any celebrity, much less one belonging to such an unoriginal, farcical genre. Second, it's an unauthorized documentary, sanctioned by neither the artist nor her representatives. Here's why that's a problem:

1. Unauthorized documentaries are glorified fanzines, featuring none of the singer's music. The actual artist footage is a disjointed collection of video clips, interview footage and still photographs scavenged from the photographers and videographers who weren't made to sign away their work.
2. All filler, no killer: Unauthorized productions typically feature other interviews with people only tangentially related to the band/artist (club owners, promoters, bands which may have opened for the artist in their salad days). Losing Aaliyah's filler is extra heinous: a "former record executive" sits...identity obscured...in the back of a limo asking why the record company was too cheap to charter a jet instead of the small, doomed aircraft; several "fans" give their thoughts and feelings on her passing (many of them seem only too thrilled to be on camera, but try to conceal it). Not only that, but the six-minute opening sequence is a hodgepodge of stills and footage of an air traffic control tower, generic footage of Cessna aircraft and what we'll assume is the actual wreckage as, again, what we can only assume is the actual mayday call plays.

I've sat through enough of these (see list to follow) to be sound in this assessment: these productions are simply somebody trying to make a quick buck off celebrities. That Aaliyah has passed makes Losing Aaliyah less a tribute...as it purports to be...than a shameful exploitation. But, being angry about that is moot. One can't expect intelligence from fans of Creed, Korn, blink 182, Eminem, Staind, and even Aaliyah, who is one of the few recent R&B artists to do advance the genre beyond the dumb-ass playa mien. If anyone is stupid enough to purchase unauthorized materials, well, what can you do? And if the cross section of fans on Losing Aaliyah is any indication, that stupidity is bigger than us all. Here are some random fan quotes from the film:

"I actually took the day off of work to come [to the funeral]." (Oh, that's a great excuse. Excuse me, boss? I need tomorrow off so I can go to a celebrity funeral. Please.)

"Yeah, man, Aaliyah, she gave me a lot and--she sexy, you know what I'm sayin'? But--she uh, meant a lot to me, because a nigga like me wanna sing and shit [laughs]--a nigga like me wanna sing." (Opportunist #1)

"Her type of music--it was very different--a very different sound. And I--I just liked every song. Every beat, every lyric was just new, innovative, and I just thought she had great music. And when I first heard of her death, I was--honestly, I was completely in shock. I was like, no-no-no-no-no-no-no. She is coming in with some new movie, she has a new album comin' out. I was like, there's no way this is happening. I saw it on the news and--I just paused for a second and thought. I saw her in that, um--the movie she was in--I don't know the name of that movie, but she was awesome in that movie."

"When I heard that she passed, I had just bought the album. I shedded (sic) a tear. Personally, I cried--and I smoked a blunt. I represented her, even though she didn't knew (sic) me, you know? And she was basically, like, an inspiration to me, as an artist, you know what I'm sayin'? As far as, like, being an artist, myself. You know? Basically. I will forever miss her, on the reals. You know? On the reals. I love you, Aaliyah. That's real."

"Aaliyah's message was, to any black female, that you can be strong and you don't have to present as--how can I say? Like a ho?

"She was a talented young black woman, just starting to blossom. She was cool. She was fine. Actually, I knew two of the people that were on the plane with her, from back in the day."

Other unauthorized productions to avoid: Creed, Riding The Edge; Korn, R-U Ready; Eminem, Behind The Mask; Staind, Break The Cycle; Kiss, Un-Authorized; blink 182, Probed.