Eastern Standard Time
Arrivals and Departures (Megalith Records)
By: Richard Vardaro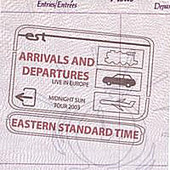 Eastern Standard Time's latest album, Arrivals and Departures was recorded live on their "Midnight Sun Tour" of Europe in 2003. Stemming out of Washington D.C. and named after a Skatalites song, EST has always been a group that has a wide variety of influences and backgrounds. The material on this album reflects that. Ska, jazz, strictly instrumental songs, dub - this album captures all that EST possesses, including their remarkable energy on stage.

"Eye of the Storm" is a fantastic ska song, "I-Peace Unikue" is phenomenal vocally, and the group possesses a very strong horn section on all the material, which is the strongest element of the band - and one of their biggest selling points.

Here is a great album I highly recommend adding to your collection. Whether you're familar with the band or not, if you like ska, you'll enjoy this offering.