East West Blast Test
Featuring Dave Witte and Chris Dodge (Relapse)
By: Jeb Branin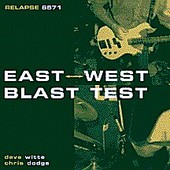 News Flash: Relapse Does Entire World Huge Favor!

How? By saving the EAST WEST BLAST TEST album from extinction after the demise of Slap A Ham records. The album has been remastered and re-released with easier to distinguish cover art. It contains 27 tunes of mind altering hyper-thrash that true connoisseurs of the extreme will spend hours with as they try to get their heads around the sheer audacity of what they are hearing. This was originally recorded by mailing tapes back and forth across a continent (anyone remember HISSANOL's first album? Same concept). Dave Witte began the process by recording the drum tracks somewhere in New Jersey. With no inkling of what would happen to them, he mailed the tapes to Chris Dodge in San Francisco. Chris (with a smattering of guest artists, including his wife Lydia) took the tapes into the studio and went postal over them. You get everything from frenetic hardcore thrash (tunes like "Baboon," "Retort," "Fillip," "Afro" and "Whiffletree" will rip you apart), to outrageous experimentation (like "Portuguese Man-of-War," "Remoras on Tiger Shark," and "Chopsticks") to things you might never expect such as oozing slowcore ("Puttee") and what can only be called post-modern jazz ("Swiss Alphorn" and "Fez"). Of all the legendary releases produced by Slap A Ham, why was this one of the first records to be salvaged by another label? Just listen to it and you'll understand.