INTERVIEW: Tommy Stinson
Former Replacements bassist yap yaps about his perfect career, solo album (Tommy Stinson)
By: Alex Steininger


As co-founding member and bassist of The Replacements, Tommy Stinson's influence and mark on rock 'n' roll is unquestionable and shall never be forgotten. Having gone on to front the critically acclaimed, and hugely under appreciated rock act Bash & Pop, as well as the poppier Perfect (whose full-length, originally titled Seven Days A Week was recently released by Ryko, rechristened as Once, Twice, Three Times a Maybe), Stinson's resume was impressive enough. And then he joined Guns 'n' Roses, co-writing and playing on their forthcoming full-length, Chinese Democracy.

However, in his 25 year career, the 37-year-old rock 'n' roll legend has never done a solo album, something all of his fellow Replacements band mates (sans his brother, who passed away in 1995) - Chris Mars, Slim Dunlap, and Paul Westerberg - have been doing since the band's demise.

So when friend Charles Thompson (known as Frank Black) went to Europe to tour with his band, Frank Black and the Catholics, and left his gear and practice space with Stinson, Stinson knew he had to make a record.

Hiring engineer Philip Broussard, and calling upon friends to back him up, Stinson set out to make what would become Village Gorilla Head. Stinson did all the lead vocals, bass guitar, acoustic guitars, majority of the electric guitars, as well as some keyboards, various backing vocals, and even drums on one song ("OK"). Gersh, the drummer for the final incarnation of Bash & Pop and Perfect, played drums on six of the songs, while Perfect Circle drummer Josh Freese handled drums on three. Jason Freese, Josh's brother, played the saxophone, and Guns 'n' Roses' lead guitarist Richard Fortus contributed to the project as well. Stinson also called upon former Perfect guitarist David Philips (also ex-Frank Black and Jack Logan) to play some guitar and pedal steel. And Guns 'n' Roses keyboardist Dizzy Reed plays on two cuts.

With an impressive cast of friends helping him out, and a studio on hand, Stinson set out to make his first solo record. But, with no label behind him, and paying for everything out of his pocket (something he wanted to do to maintain complete control), Stinson was in no hurry.

Once completed, Stinson took friends The Figgs out on the road with him, to do a warm-up tour while his manager shopped around for a label.

Following the tour with The Figgs, Stinson soon found a label with Sanctuary, though prior to signing the deal he had considered several other options, including releasing the record with former Replacements manager Peter Jesperson, who now runs New West Records.

"There was a time where I was thinking of having Peter Jesperson and New West Records put it out since he's been supportive of me since day one," Stinson tells me via phone, in between shooting of a friend's independent movie in Las Vegas. "It was a no-brainer to consider him. But, then Sanctuary came along and I thought they were a better fit at the time and I'm sure Peter would agree with me on that."

With Sanctuary on board, Stinson needed to settle on a name for the record. After tossing around various titles that didn't fit, he and his manager settled on Village Gorilla Head, if only because they thought it was funny.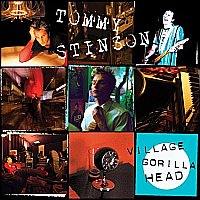 "My manager and I were in the back of a cab, trying to come up with a title for the record," Stinson recalls. "We were coming up with a bunch that didn't work and then we started laughing at Village Gorilla Head and it stuck. There are no other meanings there, and there is not a hidden meaning at all. I named a song on the record "Village Gorilla Head" and both my manager and I thought it was funny, so that is the reason we titled the album that."
Known as a rocker, Stinson had to cut some of the softer songs from his solo record to make it more cohesive.
"I had a lot of different songs but to make this record cohesive, I had to forgo the softer songs. So I have a few left over for b-sides and stuff," he tells me, when asked if there is any material from these recording sessions that may surface soon.
Between working with Guns 'n' Roses and writing songs for what would become his debut solo record, I asked Tommy if any songs on Village Gorilla Head were originally intended for Perfect, before the band called it a day.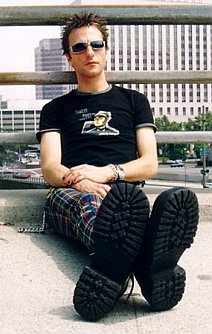 Stinson laughs at it and tells me, "No, none of them were. Especially the rockers, they are all very new songs."
But, with the recent release of Perfect's now-titled Once, Twice, Three Times A Maybe full-length, the record that was heavily traded over the internet ("we sent out a lot of copies to labels to try to get someone to put it out, so there were a ton of copies that went out, so to this day I am not sure who leaked it, but there are so many possibilities, it's hard to tell," he tells me, when asked how the record was available on the internet six years prior to its official release this fall). I ask Stinson if he plays to get Perfect back together to tour in support of it, or if he will do Perfect songs during the touring in support of Village Gorilla Head?
"There will be no reunions or stuff like that," he says, much to my disappointment. "However, I will be doing a few Perfect songs live, the ones I still like".
We begin talking about Perfect and the solo record, and how years following the recording of the Perfect record, there are things he doesn't like, but how Village Gorilla Head came out the exact way he wanted it to.
"I had the luxury of doing things exactly the way I wanted to since I did it out of pocket," he tells me, "so I got to make the record I wanted to make it." He then tells me it's almost time for him to jump back on the set and appear in his friend's independent movie.
Before he goes, I ask him why The Figgs won't be backing him on his upcoming round of touring in support of Village Gorilla Head, and how it came about that he chose friend Joe Reineke's band, Alien Crime Syndicate, to back him and open for him during touring.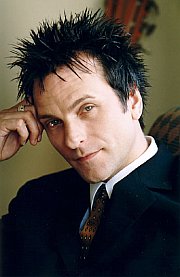 "It logistically wouldn't work out with The Figgs, so I called up Joe," he tells me. "He was the first person that popped into my head, and I'm glad he said yes, because it works out great for me. They play my songs so well".
Tommy then tells me his plans for the solo record include touring as much as he can before being called back to Guns 'n' Roses duty.
Twenty-five years in the making, Village Gorilla Head is well worth the wait, one of the finest post-Replacements projects, and a testament to creative input the younger Stinson had on the influence that is The Replacements.