INTERVIEW: Tombstone Bullets
They Just Want To Rock...
By: Liz Ortega


Recently, I had the opportunity to chat with Chris Stone and Ogre of the Tombstone Bullets. These guys play hard rock 'n roll with attitude. They have definitely proven to be "the Poo!" They rock hard and they were a blast to hang with. Here goes: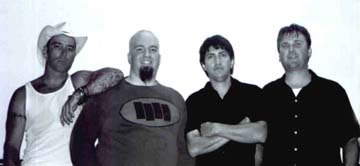 LIZ: When did the band originate?
Chris (vocals/guitar): Christmas of '97. Me and a couple of friends started a band just to play blues songs and mess around. It started out as a 'free-for-all' fun thing. It wasn't serious at all. It was just to get together and play around.
LIZ: Describe your sound. Do you compare yourselves to any other bands?
Ogre (vocals/bass): I don't think you can truly describe our sound. We take a mass of influences from each member. Everybody has a different background. Its kind of merged together to create Tombstone Bullets. I don't think you can say 'Oh, they sound like the Black Crowes or Guns 'n Roses' or 'they sound punk rock or they're heavy metal' It's just a sound. It's a heavy sound and I think it's a very good rock 'n roll sound. But I don't think we have a specific sound.
LIZ: Where are you guys playing? Are you just playing locally or do you play outside the South Bay area?
Chris: Just the L.A area.
LIZ: How long has the band been around?
Chris: Pushing 2 years. Actually, it started out of frustration of just playing in a bunch of punk bands and having it be slug feast and fights. I wasn't into it. I'm trying to play Blues because I like that. I like a lot of music. I like country. I like polka, for chrissakes! I don't care. I like music. Even our Blues is fucking hard!
LIZ: Are you all the original members?
Ogre: Chris is the only original member and it evolved from him replacing people as it came along. He found me from coming to the rehearsal studio and then I brought in another guitar player and it just kind of evolved into the current lineup. We've all been in different bands.
Chris: Dave was in the Swamp Zombies. I was in local South Bay punk bands. J.J. was in Johnny Crash. That's about it.
LIZ: What was the motive behind the name Tombstone Bullets?
Chris: It comes from a Howlin' Wolf song called "I'm ready." It's part of the lyrics and I thought it was a cool name. It was either that or Dirt Nap.
Ogre: (Laughter) I wouldn't have been in the band if it were called Dirt Nap!
Chris: Well, like you're dead, you know? Pushin' up daisies, Dirt Nap?
LIZ: Yeah, whatever Dirt Nap!
Ogre: See, she doesn't like it either!
Chris: I thought it was cool!
LIZ: What do you guys do aside from being musicians?
Ogre: We golf!
Chris: Yeah, can you see us golfing?
LIZ: So, no 'real' jobs?
>>>>>COMPLETE SILENCE<<<<
Chris: I'm a musician!
LIZ: Ogre, you run this rehearsal studio. Isn't that a job?
Ogre: Yeah, but I mean, this isn't a real job. I sit here and listen to crappy bands play. It's great. There's only one good band in this place and that's us. I mean, there're some good bands here. But not as good as us!
Chris: It's a different vibe and I think that's what sets us apart. You can't describe us and say 'oh, they're like Blink 182' and have it be that. There's just so much to us.
Ogre: I think we are going to put a new face on the local scene. I think there's this resurgence in rock 'n roll. I think we're going to set a kind of new sound as far as being in a rock band. But still grabbing from other areas in the world of music and kind of coming across it like you can still be a great rock band and people can still go out and have a lot of fun. I think that's what's been missing in the music industry. I think that everybody's either gone 'Oh, we have to be like Korn.' I mean, I like Korn. They're a phenomenal band. They're good at what they do.
LIZ: If you had the opportunity to share a bill with any artist/band of all time, who would it be?
Chris: My dream gig, Johnny Thunders.
Ogre: You're thinking small time, dude! He's dead!
Chris: Yeah, I know. I love Johnny Thunders, Deadboys, Ramones, New York Dolls, Guns 'N Roses. ROCK!!
Ogre: I just want to play with the Rolling Stones.
Chris: Cadillac Tramps. I love bands like that.
LIZ: What sets you apart from any other band?
Chris: Well, I think our sound separates us. I don't think we're a "cookie cutter" band. There are so many different influences, you've got your metal, you've got your punk rock, and you've got your country. There's so much being thrown into it. And I think that all comes out in our music. From hardcore vocals to these guys backing vocals to J.J's lead playing. Guitar playing is so underrated now, and this guy smokes! He's a good fuckin' guitar player. I think that's what sets us apart. There is a myriad of influences. I think we ROCK!
LIZ: What are your feelings towards violence at shows?
Ogre: I think it's worse now than it was before. It used to be where you'd go to a show and if you slammed atleast you had the mutual respect of slamming. There was nobody out to kill you because you were in the pit or looked at them wrong because you were all unified punk rockers.
LIZ: Do you see that type of behavior at your shows?
Ogre: People get into our shows but I don't think to the level where people are ready to kill each other. I don't think our music incites that. I'd be bummed if somebody got stabbed or killed at our show. It would be enough that I would stop the show. But if somebody got hurt or injured...
Chris: We're bummed when are mics break!
Ogre: Yeah! (Laughter) I mean, I feel bad because I've been to shows where people get crushed and there's nothing you can do. I was a roadie for ten years, so I've seen the worst.
LIZ: Where do you see yourselves 5 years from now?
Chris: ROCK!
Ogre: Conquering the world!
Chris: Just playing, man! I love to play. Especially Ogre and I, we have a good time. WE ROCK! I don't have like any preset 'I want to be here or I want to be doing this.' But I want to play music. It means everything to me. I want to tour, record and play.
LIZ: What keeps your motivation and drive going towards that record deal?
Chris: We put 120 percent into this band. I wake up thinking this band. I go to sleep thinking this band. The rest of the guys are the same way. It's everything to us.
Ogre: You kind of have to motivate yourself. It's hard drawing out people to shows in L.A. It's the toughest sell audience there is. I think to stay motivated, you see so many bands that are featured like in the Weekly or Bam, and they were in other bands like three months ago. Bands just don't have the perseverance to muster through all the bullshit. I think people get side tracked and don't put all the effort into it. It has to be a part of your life.
Chris: To Ogre, and me it's all about the band. I wake up, go to sleep, shit, drink, thinking about this band.
Ogre: We've all given up something to stay in the band. I passed up going on the road. Chris passed up other jobs. Everyone's given up something. Our guitar player drives like a hundred and something miles a week just to come to rehearsals. That shows you perseverance and dedication just to be in the band. I think that's what it takes to be in a band.
Chris: I think people give up too quick. Getting signed isn't the golden egg for us, really. That would be great, but I just want to rock! I want to play and I want to tour. But with that comes being signed. I think if you don't give it everything you've got, what are you doing this for?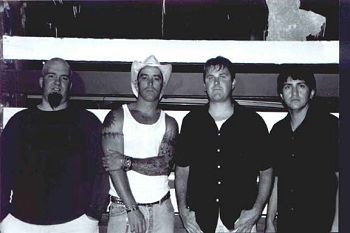 LIZ: What advice would you give to those who are starting out in bands?
Ogre: Don't quit! We all know what we want out of playing music and I think if you're going to be in a band, everyone has to be on the same page.
Chris: We practiced one time with a drum machine because we refused to stop playing. We would still show up and play even though we didn't have a drummer. That's how important it is to us. You can't give up.
Ogre: It's a magical thing to go see a band that has truly crossed boundaries and has overcome all the crap that you have to go through to be a great band. Whatever you're playing, doesn't matter what kind of music, to be a great band or even a good band, you have to have perseverance. Stick to what you play and what style you play. Play with your heart and your soul and do what you do.
Chris: And listen to the Clash!
LIZ: What cartoons did you guys grow up watching and do you think they might have added some kind of artistic influence? As far as creativity and character go?
Ogre: I have a really obscure one. My favorite cartoon was Babyman which was on Saturday Morning cartoons, back when they were truly Saturday Morning cartoons and would last the entire day, or atleast it seemed like it. There was this cartoon on that was part of another cartoon, it was the coolest thing ever. I only remember seeing it 4 or 5 times.
Chris: My favorite cartoon is the Warner Bro. Michigan Frog, where he sings "Hello, my baby. Hello, my darling." The original frog. That's my favorite cartoon, hands down, never fails.
Ogre: Underdog was the cartoon. Babyman was part of Underdog.
LIZ: Oh yeah?
Chris: What's your favorite cartoon?
LIZ: (HEY, I ASK THE QUESTIONS AROUND HERE, PAL!) Actually, I was into Felix the Cat.
Ogre: Felix the Cat... lots of sexual overtone in that. Think about what you can pull out of your bag?
Chris: A bag of tricks.
(I know they were insinuating something sexual, but I refuse to go there.) LIZ: Well, gentlemen, it has been a pleasure talking with you both. Do you have any last words?
Ogre: No, not really. Thank you!
Chris: Support us! Support any band for that matter, Damnit! Especially us.
Ogre: Buy our record! Oh wait..
Chris: We don't have one.
Ogre: That's right. Come to our shows naked!