INTERVIEW: Jealous Sound
Major label limbos didn't hold this Southern California indie-rock band down and their debut full-length is proof of that (Better Looking Records)
By: Alex Steininger


"Basically, none of it was recorded on Mojo's dime," states Blair Shehan, the lead singer and songwriter behind The Jealous Sound, a California-based pop-heavy indie-rock band, discussing the band's debut full-length, Kill Them With Kindess, a record originally slated to be released on Mojo prior to the label losing distribution with Universal.

"They didn't get anything," continues Shehan. "They didn't get a record or any recordings."

The Jealous Sound signed with Mojo weeks before Universal and Mojo parted ways, getting caught in limbo almost as soon as the ink dried.

"Some guy was supposed to tell someone else that it was happening [Universal and Mojo parting ways], but someone had a heart attack or something like that, so the communication line wasn't open," recalls Shehan. "This is what I was told from someone. So they were supposed to tell everyone they shouldn't sign anymore bands because Mojo wasn't going to be distributed by Universal anymore and that the partnership was over. Somehow it didn't get back to them, so [our contract] got signed when it shouldn't have. Then we got stuck, and then shuffled over to Jive Records, blah, blah blah."

Jive liked The Jealous Sound, but not enough to commit to them. With the ball in their court, and no clock ticking or any decisions needing to be made on their part, the band seemed to be on the backburner -- at least as far as Jive was concerned.

"There was no pressure on them to make a decision. It was at their discretion what they wanted to do with us. They were like, 'oh yeah, it's good. Record some new songs for us'," Shehan says, trying to forget the whole ordeal. "We got tired of it and thought it was stupid. So we told them they that they either (a) need to put out a record or (b) let us go. We forced their hand to do it. We didn't want to be here and we made it clear that if they didn't absolutely love our band, want to see us succeed, and want to help us build our vision, and want to work with us on that, than they should absolutely let us go and that there was no way we should be in a partnership with them in any way, shape or form. That was it and had our lawyer draft it up and send it to them to make it all official. And so they let us go."

Due to the "play or pay" clause, Mojo/Jive was to release a record or pay the band and let them go. And, luckily, when they let the band go, The Jealous Sound was owed money.

"[The clause exists] so bands don't get totally fucked. So if they don't want you, they just pay you off," Shehan tells me.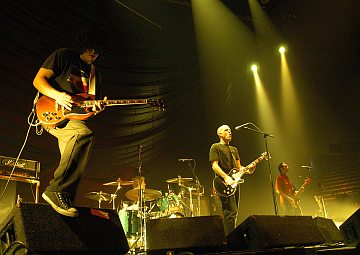 "They did this big song and dance," he says of Jive. "At some times we thought, 'Maybe we should make the best of it? Is it really that bad? This is a big label'. But, the more we thought about it, the sillier it seemed. But, we didn't put out a record. Most bands with our story put out a record and then the major fucks them over. That never happened to us. We were just not able to really do anything. That was the only difference with us, so it wasn't that horrible, as some people may think. However, since we didn't have our freedom, we made a decision that we didn't want to jump back in bed with another major or a big indie and get a really bad deal. You learn what you want out of a deal when you have one that isn't quite right."
During all of this down time, the band didn't sit around on their hands, waiting for the green flag to release a record. Mojo had given them money to demo, and instead of going into a studio, the band bought microphones and equipment, so they could record demos themselves.
So, during the "down time", the band constantly wrote and recorded, demoing as much as they could, while also keeping busy with choice tours, including select dates with The Get Up Kids, and a national tour with Death Cab for Cutie.
"There were only a couple of periods, like during six months, where it got tough and we had some internal problems we had to work out," Shehan says of the time following the signing of the Mojo deal and the release of Kill Them With Kindness.
The band had been in limbo for so long, that "literally within a day of the final papers coming through that we were free [from Mojo]" the band had a meeting and decided not to shop the demos around and immediately call their friends at Better Looking Records, who had released their debut EP.
"[Better Looking] was always there for us. [They] never had a bad word, and always told us that [they] was happy for us if this is what we wanted to do. We always had a good relationship," comments Shehan on what lured them back to Better Looking.
"At one point it seemed silly. All we had was an EP and we were headlining clubs," he continues. "We felt silly so we knew we had to record and release a record. We thought, 'we just can't do this off of five songs'. That's another reason we didn't want to spend six months negotiating a record deal, another four months recording a record, and then we didn't want to wait eight months for the record to be released. Time was of the essence for us."
With a label in tow, the band began working on the record that would become Kill Them With Kindness. Throwing in the money left over from the Mojo "play of pay" clause, and with some assistance from Better Looking Records, the band brought in noted engineer Tim O'Heir, who brought with him a lot of gear to supplement their own gear, and the band turned their two-room practice space into a studio, using the unused room as the isolation room.
"It was really great," Shehan says of the recording experience. "We didn't have the clock ticking for us, so we would do some at the studio and some by ourselves."
The band went in with nine brand new songs, re-did "Anxious Arms" (a different recording is found on the band's EP), and had two other songs that were half-finished when they started putting them to tape.
"There wasn't room to cut anything," Shehan says of the band's recording plans, stating that the band knew exactly which songs would go on the record when they began recording it. "We did start recording one new song, but we realized our plate was too full to start something new and pursue it, so we only cut basic tracks on it."
When asked to explain the differences between the EP and Kill Them With Kindness, Shehan is quick to reply.
"On the EP, there is no waste of space," he comments. "It's boom, boom, boom, done, goodnight. With the LP it's more of a challenge, because there a lot more sounds and different styles of songs."
He continues by stating, "What you need to realize is that the EP was essentially recorded as a demo. Aside from the mixing, there was no money spent on that. It was a project for a friend's recording school. Also, I wasn't really pushing myself as a singer. At that point I had just moved and finished up Knapsack. I had been screaming my head off in Knapsack for five years, so at that point I just wanted to be laid back and not sing. So, where we were when we made that demo and where we are now is a lot different. I eventually wanted to be less laid back and more engaging."
I also ask Shehan to explain the title of the record. Again, he is quick with an explanation.
"The title is a line from one of the songs. The line [in the song] is about watching someone self destruct. It's about watching someone be stupid and watch them know something is bad and still they do it. That's sort of what the album title represents, but we made it broader because I don't like 'I' and 'Me' titles so we changed it to 'them'."
Following the album's release the band did select dates with the Foo Fighters, playing to an arena crowd, and since have been on several national tours with no signs of slowing down any time soon. Chances are, they will be in your city soon. Be on the lookout.