INTERVIEW: Jeff Pilson of Dokken
Dokken Bass Player Talks Rock Star, Solo Album, and More!
By: Alex Steininger
Photos By: Jeff Fishman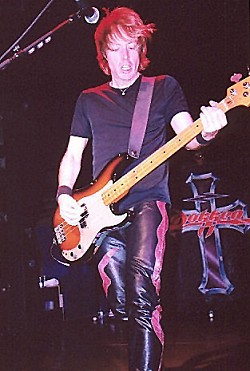 Jeff Pilson could best be described as the 80's arena-rock bassist of choice, playing with Dokken as well as Dio. But Jeff has also worked on his own material, creating a semi-solo act, War & Peace, a new band called Underground Moon, and working with Dokken guitarist George Lynch on an as-of-yet unnamed project.

Recently In Music We Trust talked to Jeff regarding ?War & Peace,? his recent appearance in the movie Rock Star, and his plans for future releases.

In Music We Trust: War and Peace is a solo album, correct?

Jeff: No, not really. It's more a fun/spare time ? as if there is any ? outlet for my melodic rock songs. It's kind of become the vehicle that Dokken was for me writing-wise, but with less distraction. It's also a fun opportunity to let amazing guitar players come in and tear it up. It started out to be a Japanese solo record, which I thought would be very much in the Dokken vein, but then I branched into writing the Underground Moon music, so I thought calling it War & Peace would help avoid confusion. W&P is known as melodic rock, and UM is so different; I didn't want the lines to blur.

We went to Japan in ?99 and the label wanted Reb (Beach, former Winger guitarist, now with Dokken), Don and I to all do solo records, so I came back inspired and wrote much of the W&P album before the end of the year.. I love working on my own because I can see all my ideas through to completion, without stepping on or dealing with egos. But I still obviously love collaborating, when the chemistry feels right, because of my current work with George Lynch and Tommy Henriksen with UM. But it's good to have those situations where you're on your own to explore and learn, as well as emote.

IMWT: How does War & Peace compare to your past experiences playing in Dokken?

Jeff: Now that it's mostly done on my own, it becomes a very nice focused arrangement, where Dokken is a committee.

IMWT: Do you see 80's metal/butt rock making a comeback or having a second wave of popularity?

Jeff: Sure, but having a new spin to it. And I don't see the bands/heroes from the 80's being the ones making it happen. I think new blood will come in and do it in a new way that's their own. And that's very much the way it should be, I believe.

IMWT: How did you like acting in the movie Rock Star?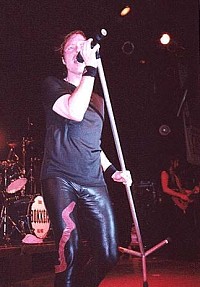 Jeff: Loved it, lots of laughs, a great experience, and a good intro to the film world. I thought it turned out to be a very good flick. Mark and Jennifer both, I thought, did amazing jobs, and the story is very likeable.
IMWT: What are you currently working on?
Jeff: Underground Moon just came out last week in Europe, so lots of promotion for that. The live band is also put together, so we've started doing gigs, which is real fun. The band kicks ass and I'm having the time of my life. Then I'm doing a record with George Lynch ? still doesn?t have a name ? but that's turning out so incredible. What a record it'll be ? I?m quite excited. I?m also working with my partner Tommy on lots of production projects, which keeps me real busy, so all in all ? no sleep!
IMWT: Any plans to tour?
Jeff: I'd love to, both with George and UM.