SPARKLE*JETS U.K.
Bamboo Lounge (Crab Apple)
By: Gary "Pig" Gold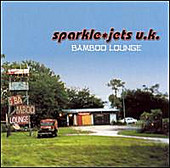 Never let it be said of these Kings and Queen of Orange County Cali-Pop that they don't give Great Big Value for your entertainment buck. Coz herein, besides the band's Best Album Ever, sits one big ROM's-worth of bonus attractions (featuring videos, live tracks, lyrics, plenty-o-Sparkle*pix too). And, if you're lucky like me, you may even find a tiny li'l tiki umbrella meticulously stuffed into the jewel case!

And, um-- Oh Yeah! The MUSIC! Head Jets Michael Simmons and Susan West swiftly serve up a solid fourteen angst-fueled shots of love longed for then usually lost ("Real Nice Time," already covered by no less than their good pals The Masticators, says it almost all best, though I'm also especially partial to the line "You say you need some Pine-Sol? to clean your heart" from Susan's Partridge-ready rockasilly romp "Consult Your Physician"). "Sorry" offers yet more classic pop balladry from the mighty Simmons pen (complete with a wholly-"Sunflower"-worthy B.Boy intro), though Ms. West's "A Nice One" is remarkably gentle in a moody Maria Muldaur / Melanie-even kinda way.

Meanwhile, "They Shoot Square Dancers" could so easily revive those Wilson sisters' ailing Heart, and the title track quite conversely conjures the papaya'd ghost of none less than Los Wondermintitos (--which reminds me to remind you to keep an ear well peeled for the sly Tijuana trumpetry which Probyn Gregory throws throughout the B. Lounge!)

Go ahead and slap some darn label like "retro," "alternative," or even (Yikes!) "power pop" atop this music if you must; those in the know will simply tilt a cool tall one, kick right back, and let the S.Jets pour a little sugar on 'em. You game?