Broken Bottles
In The Bottles (TKO Records)
By: Vinnie Apicella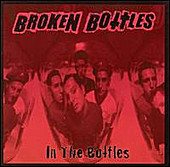 "In The Bottles--" "In The Bottles--" Try and try as I might I can't make a damned thing out of the title of this mischievous sounding debut by the So. Cal foursome previously of EP-only infamy. Or maybe like crawling up inside the bottle to bury your sorrows? Broken Bottles? Okay, I can go with that; there is a slightly thematic slant to the contents incidentally -- if one were to associate broken bottles with some degree of teenage disenchantment and obligatory vandalism.

Unlike the glut of sandy-haired Punk/Pop star-polish types, Broken Bottles are more vintage than vans as evidenced by their socially "distorted" slant that throws back to the days when adolescent absurdity went hand in hand with pit tantrums and political incorrectness. An early faceful of first track "Afterlife" sees twenty years fly by in a whirl of dancing feet amidst a cooler than shit chorus about living forever and dancing till death. Among the highlights are this, the next, and the featured CD-Rom vid, "Drinking In The Rain," with its clever storm-like FX and on screen static. They're laughable cover of "The Letter" isn't really worth mentioning so I won't-- oops, too late. Skip to the next few! BB are new but modeled after the classic Reagan-era West Coast types bands like TSOL or The Weirdos and more recently, The Stitches and Briefs. But rather than rouse and rail against Republicanism, they produce an audible equivalent to streaking and singing about suburbanite school gags and silly charms. Childishly ghoulish, thanks in great part to Jess The Mess's vocal hysterics that's one part Ness, another part nervous, part Biafra, and a little Lux, his fresh from the fumes nasality serves to not only subjugate the rather impressive six stringin' stunts of Sullivan's surf's up and sharp chords but also invites the listener for a closer view than one might expect with the head-blowing tactics of the typically rage and roar street rodders.

Abundant melody, Elm Street imagery, and plenty of juvenility make cohesive if odd counterparts playing to subject matter that's surprisingly tame by even old school's snot-nosed standards. Hear 'em do a job on ol' Kelly Osborne (originally appearing on their "Not Pretty" EP) however, and gay Nazis on "Pink Swastika," poppin' cherries in the cemetery -- just your usual class of inebriated lyrics stemmed from a sixteen forever subculture.