Ron Sunshine
Deluxe (Self-released)
By: Alex Steininger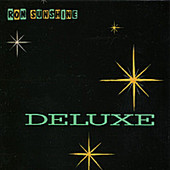 New York-based vocalist Ron Sunshine was there long before the 90s swing revival, and he's still here, as Deluxe, his latest album, attests to. Chalk full of the jump blues, jive, and 40s swinging jazz -- as well as some funk -- Sunshine's silky smooth voice and smoky dance style recalls the old while dancing you into the new.

His third solo album, and fifth altogether (he did one record each with his two bands, Full Swing and The Smoking Section), Deluxe has all the elements of a great swing record. It's got a stand-up bass that makes your body tingle, plenty of bright horns to make you melt, and a steady rhythm you can swing and sway too.

Yes, Deluxe is a testament to the authenticity of his craft. It's proof that he was never in it for the trend. And now that the spotlight is gone, he is still as passionate about it, doing the music he loves and making it as sexy as can be so you can get close to the one you love and dance late into the wee hours of the morning. I'll give it a B+.