SHOW REVIEW: The Dirtbombs
THE MET CAF? - November 11, 2003 (Providence, RI)
By: Paul Hullabaloo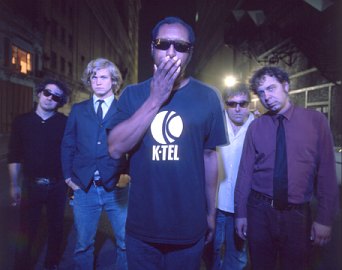 THE DIRTBOMBS, direct from the racially divided automotive Valhalla of Detroit, played Providence's Met Caf? along with THE DIGS and THE SIGHTS on Tuesday, November 11th 2003. The Met is one of the most respected Rockandroll stages in the city; an intimate, boxy room with high black ceilings formed by rumbling heating ducts bathed in red and green painted light. The Met houses a tall, squared off, separatist stage and just the right amount of sonic throb and low punch to accommodate THE DIRTBOMBS sound. This band is a ripping Punk-Soul aberration that needs dense volume and tightly populated space to adequately transmit its dynamic hum out into the ether. THE DIRTBOMBS are an eclectically designed outfit, featuring two drummers coupled with a dual bass assault supporting one of the elder statesmen of underground American Rockandroll out front, Mick Collins, the band's evangelical vocalist and subtle lead guitarist. Mick Collins is a mountain of Detroit brown, his right arm swinging in a slow, British Invasion museum piece windmill, tearing through Chains of Love with hints of Hendrix's hesitant, humming voice and Otis Redding's know it all swagger; grin cocked at the side of his mouth, fighting through a whipstorm frenzy of Motown infused chord progressions mutated by the rampant, off-kilter discord of outlaw pride Rockandroll writhe. Mick Collins is one of the premiere emissaries of the Detroit revivalist explosion, having championed that scene predominately for years as a founding member of both THE GORIES and THE SCREWS. However, he is the first to quickly clarify in various interviews and on his own website (www.thedirtbombs.net) that the Motor City scene is a well fabricated journalistic illusion, actually devoid of bands truly willing to live up to the scene's now infamous communal reputation. Collins is out for himself, a tried and true Rockandroll highway mercenary, existing only to serve the windswept call of the road.

Before the show, I watched Mick Collins mull through the current of quietly huddled, between set cliques lining the back of the club. He seemed unassuming and astute, late 30's, graying at the sides, wearing chemistry teacher glasses and an unkempt, hanging goatee. He seems polite and thin, softly excusing himself while moving through the small groups of people who neglect to even notice his courteous passing. On stage, however, this is a man completely transformed by his calling: the religious snap of propulsive drum and feral low-end rhythm. Formerly reserved and intellectual, he now bites down hard on his lower lip, tearing on a ravaged Fender, knicked and bruised by years of steady bravado. He is struts in small Chuck Berry skips, hollering falsetto yelps towards the mic, possessed by the mythic Rockandroll spread leg pivot stance. He is fully embracing the value of his own blackness in a Radford Bobcats T shirt and tight grey worn jeans; Ray Charles wraparound shades obscure his deeply laid brown eyes.

Before THE DIRTBOMBS set began, there was an anticipatory rumble through the 50 or 60 in attendance. They had pushed together towards the front, submissive and signaling their readiness. However the band took a full, self-indulgent 40 minutes to construct their stage setup. The band patiently pushed amps into place, gently placing pedals into position, checking batteries and the various _ inch cable jack connections, apparently oblivious to the anxious energy beginning to brew from the buzzing collective.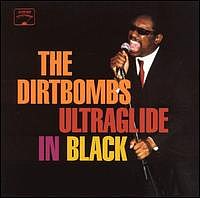 Finally, at 11pm, they gracefully organize weaponry and plug recklessly into the electric fuzz crack of humming amps; loudly heralding the beginning of their thirty-minute set. There is a smattering of appreciative applause as THE DIRTBOMBS open with Ode to a Black Man, a searing number off of their second album Ultraglide in Black. The album is a 13-song manifesto featuring 12 authentically retro, romantically soulful garage influenced covers. Each song they play builds steadily on the back of the last, there are mere seconds between blasts, songs are launched at a frenetic and confident pace deftly composed to run under 3 minutes each in length. Both drummers wail, each hanging on his own separate task. One thrashes maniacally with high arm slams and hollering artillery kick and the other hunches down, handling the holding pattern of nuance and sharpened high end. There is an alien and wildly animated Asian girl, Ko Melina Zydeco, handling one of the bass guitars, its fretless neck alone longer than her entire narrow frame. She is laughing madly to herself, head shifted up towards the ceiling, in a short velvet skirt and a yellow baby T top, singing bursts of backup absently and at least three feet away from any mic that might have a chance of picking up on her efforts. The band looks bone tired and road weary. They are a young, ragtag, typically hipster suburban outfit, clad in extra small kitschy T-shirts with faded wallet mark jeans and flopping, oily bangs gently shading over the eyes. They have a practiced and synchronous dynamic; the music hangs together desperately, conducted by the retro-electric rip of their instruments. There is a momentary and transcendent point where Mick Collins lays down a complex and subversive feedback fuzz solo, letting it cascade over layered minutes of focused dual percussive railway rhythm. It is a hypnotic and unpredictable variation during an otherwise straightforward set of Rock/R&B interpretations.
As the bad plays, they circle inward, facing eachother. There is a familiarity and a tangible sense of camaraderie between players which is somewhat ironic, seeing as how they probably won't play together for very long. There have been up to a reported 14 separate line up changes since the conception of THE DIRTBOMBS in '92. Collins deftly orchestrates these changes in order to breed an uncomfortable, tiptoe dynamic of spontaneity that mirrors the evolving sensibilities of the bands' albums and influence. Consistency is a word purposefully absent from Mick Collins' vocabulary, which seems to be that which keeps his musical output so sincere and vital.
THE DIRTBOMBS are accustomed to playing shows wrought with a visceral sense of manic energy, with hordes of people writhing together, charged by the erotic vacuum of their music. This night, however, is slightly more pedestrian and civil than what they may be used to. The audience is huddled close, bobbing heads in unison, intently watching with a sense of reverent respect. THE DIRTBOMBS take what they can from the crowd, acknowledging them once in a while with a gracious thanks or a throwaway wave when necessary.
They seem to know that they can phone this one in and they allow that to happen while outside, the tour bus idles, patiently hidden under an awning in a small city alleyway.
Mick Collins pauses between songs, and cautiously bends his body to glance out the glass doors; a cool, November draft seeps through to meet his stare. The road continues its eager call, a call that Collins has to struggle to ignore--