SHOW REVIEW: The Cynics
The Cynics Prove Living Is The Best Revenge (Satellite)
By: Nick Mlatchkov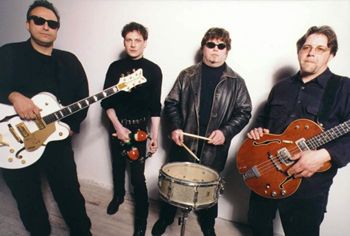 The openers, local garage freaks the Chickens, made a good impression bringing in lots of energy and sweat to Lee's Palace.

The singer looked a bit like Midnight Oil's Peter Garrett and spent as much time in gimmicks as working the mic. One of the guitarists wearing a D4 T-shirt was sporting a fancy Rickenbacher while the other got involved in a friendly chatter with a Cameron's waiter, apparently a big fan of the band.

The small, but devoted crowd included a few real super troupers and a guy coming all the way from Pittsburgh to Toronto.

The Cynics appeared after a short break.

From their first 7" on the now infamous Dionysus label, to reforming in 2000, just prior to the new garage explosion, the group had a long way to go. Founding member and Get Hip Records owner Gregg Kostelich had his trademark Gretsch guitar on. He is also known for running down the music industry.

Smith Hutchings, a member since 2000, sported a Gretsch bass and was the calmest on stage, smiling ocasionally here and there.

Singer and harp player Michael Kastelic was at his best, moving Mick Jagger alike on stage.

At one point he balanced like a rope-dancer on the left wooden bar. Michael held the mic fervently mugging and shouting 'Auuuu' almost all the time.

Then the band introduced their newest member, the Farfisa playing Spanish girl Lucia, wearing a very short dress. She had her hair covering the pretty face.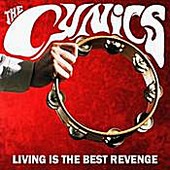 They ran through cuts from their latest 2002 release, Living Is the Best Revenge, performing with a visible satisfaction.
In "Revenge", obviously written before Little Steven had launched his "Underground Garage", they sing "I'm sick and tired of that radio sound".
Soon after they became one of LS' darlings and the tune is about to become their hymn.
Gregg emphasized on the chord progressions instead of running into long licks. Kastelic didn't stop running around throughout the hour plus show. Although, it was pretty short given the fact they play over 2 hour sets normally, especially in Spain, where Mike had recently had an accident.
Returning for an encore, the Cynics launched into the Stones-eque "Ain't No Friend of Mine", a live favourite and crowd pleaser that met with intense hand-clappings.
Truly a night to remember.