INTERVIEW: Tiger Army
Epitaph's Psychobilly Rockers (Epitaph)
By: Brian Budack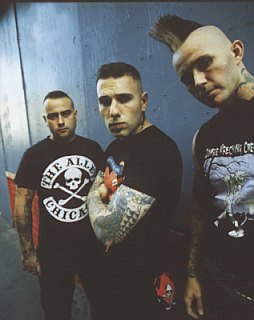 Tiger Army -- A band that helped define psychobilly too a generation. And also helped to merge the metal, punk, and psychobilly scenes more successfully than any other band in the past 5 years. I got to sit down and speak with Nick 13 from Tiger Army, and this is what he had to say.

IMWT: Has Fred hell's incident changed your out look as band, and is Tiger Army going to work with any gun prevention/Fred programs?

Nick 13: Not really, I don't know that has changed us. I always viewed the world as a fucked up place. It helped to demonstrate tiger arms commitment to what we do. And it helped us realize life is a fragile thing.

IMWT: What is the first ever psychobilly band ever in your mind?

Nick 13: The Meteors. The Cramps where important. But they where playing a progressive sort of psychobilly, just like the Meteors where, who were the first ever.

IMWT: How do you feel about the mainstream spread of psychobilly (I.E. The VOGUE article). Is it going to ruin what very little we have in a scene, or will the experience enhance it?

Nick 13: The VOGUE article that came out had a lot of inaccuracies in it. And it's not uncommon when someone outside of a scene looks at it, his or her view of what's going on is often mistaken. I think the growth of the Psycho scene is a good thing though.

IMWT: I myself am really into a lot of smaller bands that don't get any exposure. Are you guys ever going to consider taking bands like the Black Rose Phantoms or Graveyard Shift on tour with you guys? And, are you guys going to do another psychos vs. whomever type tour again (I really loved that tour)?

Nick 13: Yea a lot of the tours we have been doing we haven't been headlining. But I think it would be cool to take a band like that on tour with us. And were not planning a psycho vs. punks tour.

IMWT: I read that SLC is one of your favorite places to play, I am from Portland so what is it about this city that you love so much. (Quote from road journal bye Nick 13, found on the Epitaph web-site)

Nick 13: Its just one of the towns along with Portland that has given us a good reception going back to our first tour. Towns are more receptive now, but SLC and Portland where cool to us from day one.

IMWT: Do you feel that the band's success came rather sudden or where you expecting to be able to draw the sort of fan base you have.

Nick 13: It's been a long slow road. I'm happy with the progress.