INTERVIEW: Thrice
One of Punk's Rising Stars Discusses Jumping From an Indie to a Major (Island Records)
By: Chad Roskelley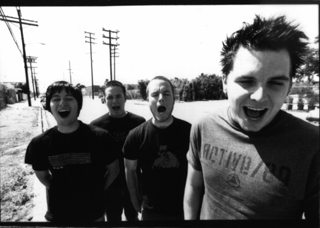 If you've walked in to a major record store sometime in the last month, chances are you've seen Thrice's latest album staring at you. It's titled Artist in the Ambulance and is the debut major label release by Thrice; their third full length total. While at Warped Tour 2003, I had a chance to chat with lead singer Dustin Kensrue and talk a bit about the new album, their major label hop, and donating to charities.

IMWT: Spin's "The Next Big Thing" issue quotes the band as saying you guys started the band to "have fun and play a few shows." When did that mantra change and you knew it was time to get serious?

Dustin: It's kind of a real slow progression. We started playing shows at home three times a month, put a record out, and an EP, signed to Sub City. We started being like "we should tour." Then we started being like "we probably should tour." We started touring a little bit then finally were like "we really want to do this, we need to drop everything else and go for it." So we dropped college, worked real jobs and started going on the road as much as we could, working when we were home, until it got to the point where we were never at home. There was never a point for us when it was "now this is the thing," it just kind of evolved with time.

IMWT: What are your hopes for your major label debut and how would they differ from an independent release?

Dustin: One of the things I'm glad about is that Island has Universals distribution, which is really good distribution. People in a lot of places will be able to find it, like anywhere in America now you should be able to find, easily, the new record. In Europe it will be a lot easier to get, where as, it's impossible to get our record there now. That'll be a cool thing. Another cool thing is, having the budget to do the record the way we wanted to do it. We spend a little more time tracking and that made a huge difference; just the time. We tracked it for two or three months.

IMWT: Being on Sub City, you've previously donated portions of your record sales to charities, what charity will the new album donate to?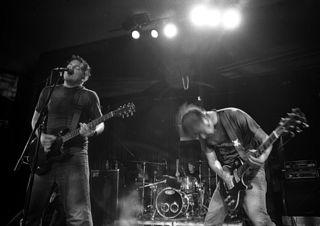 Dustin: The new record is going to benefit a charity called the Syrentha Savio Endowment, SSE. Basically, I think it's mostly in the D.C. area. It funds scanning for breast cancer for women who don't have health care and treatment for them if they are found to have breast cancer.
IMWT: How did you guys come to choose this charity?
Dustin: The guy who started it is a friend of our producer Brian McTernan; his name is Mark Beemer and we got to know him pretty well while recording this record. He lost his wife a few years ago to cancer. It was their idea to start it together. His commitment is to keep most of the money actually going to the charity. Something a lot of charities really don't do; their overhead is like 80-90 percent of the donations.
IMWT: Was Island open to matching your donation in the same manner that Sub City did?
Dustin: They'll be matching the same way that Sub City matched us. We basically told all the majors that were looking at us at the time, "you need to be down with this or we're not even interested." It's just something that we didn't feel like, since we were moving labels, we should stop doing. It's a part of what we do now.
IMWT: What song do you most enjoy from the new album?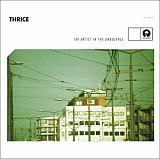 Dustin: That kind of changes with time. The first song is cool; it's called Cold Cash and Colder Hearts. We got to do some strings on the record and that song sort of showcases them. It's really pretty.
IMWT: How do you separate yourselves, to people that will be hearing your music for the first time, from being a part of a recent emo/screamo/hardcore/punk trend?
Dustin: I don't know, really, to me, I'd really like to be this new rock band that's not some name, like some label, like some new cool thing. I think that our music is good and I think it doesn't sound like all of those bands. I don't think all of those bands even sound like each other, but it's the tendency of people to group things together. It isn't always s like that; there are definitely bands out there that weren't part of some "movement." I'd hope to want to be one of those. It's really up to the music in the end.