INTERVIEW: Downpilot
Seattle's roots-indie-rock band talks about their debut full-length (Blue Disguise)
By: Alex Steininger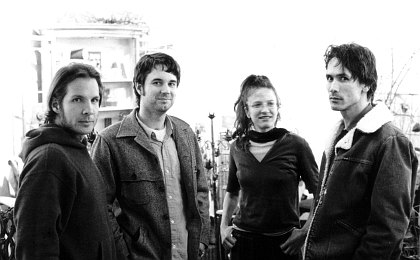 Seattle's Downpilot came about when front man Paul Hiraga had written a handful of songs he wanted to record. Knowing exactly how the songs went and where he wanted things to be placed, Hiraga formed the first incarnation of Downpilot and entered the studio with the band to record their debut release.

However, that incarnation was not meant to be. The band broke up after only two songs were recorded. But Hiraga finished the album, 2001's self-released EP, Thrive in a Short Season, despite the obstacles, and put together a new group.

The result was the band's debut full-length, 2003's Leaving Not Arriving (Blue Disguise), a stunning display of ambiance-centric pop melodies with a roots-y demeanor all wrapped around Hiraga's voice and lyrics.

"The band changed a lot during the time the new album was recorded," Hiraga informs me. "We actually broke up after the first couple of songs were recorded. Jeff [Brown] moved from drums to bass and I just forged ahead into more of a studio type recording. The current lineup came together as a result of me asking Eric [Eagle] (drums) and Anne Marie (violin) to come in and help us record, and we had so much fun that we started playing as a band."

Engineered and produced by local studio wizard Tucker Martin (Jesse Sykes and the Sweet Hereafter, Laura Veirs, Modest Mouse), Leaving Not Arriving was a collaborative effort, unlike the debut EP. Hiraga and company welcomed the guidance from Martin as well, who had a big hand in the shape and sound of the record.

"Tucker really produced this record in that his artistic input always had equal weight," Hiraga informs me. "His experience in the studio and his intuition for what we were about really did help us realize this record.

"What I think was crucial to this recording was the way that he and I interacted, I really let go and let him bring some fresh ideas to the mix, and he pulled playing out of me that I didn't expect. We have a great musical and personal rapport; I consider him my George Martin."

When asked what some of his favorite parts of the record are, Hiraga doesn't have to think at all.

"I have crazy things I like to listen to that I'm not sure anyone else would get excited about, like the end of the record the way the ambient noise overtakes the end of the last song," he tells me. "I was hearing something like that in my head and told Tucker to try to find what I was hearing, and he just stepped inside my head and recorded it. I also like a lot of the random things that we did, like the keyboards and various percussion sprinkled about."

I also ask him if he has any favorite songs on the record.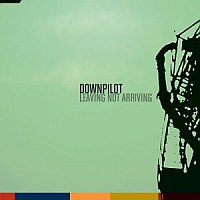 "'High Water Mark' is one. We had just left that song for dead, we just couldn't find the right feel until we all sat around in the studio, really got our heads around the mood of it, and collectively found a cadence to build upon and then it completely came to life," he remarks. "It was never a duet before either, that was Tucker's idea. 'My Time This Time' really captures something for me too, very much a mood piece."
Happy with how the record came out, and pleased with its reception at press (the record has garnered rave reviews from a variety of publications), Downpilot set out in December for a West Coast tour, and hope to hit the Midwest sometime in the spring.
"Anne Marie and I have done a lot of acoustic shows, so we have the stark thing down. We're still in the process of discovering that sonic density as a live band," Hiraga comments on their live show. "We're starting to use a sampler and I'm trying to bring in some keyboards so we have some of that sonic diversity that happens on the recording."
The band also has their sights set on touring England.
"[I] recently met Neil Halstead when he came through Seattle with Mojave 3, [so] we're talking with him about setting up some shows in England."
Hiraga leaves me with some sage advice: "[As] for things I don't want to repeat, I don't recommend breaking up the band while doing the next record!"
Look for Leaving Not Arriving at your local record store or see the band live when they come to town.