INTERVIEW: DoomsDayKult (RivitHead Records)
By: Jett Black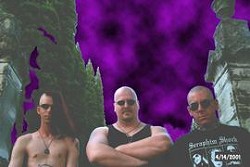 DoomsDayKult (RivitHeadRecords), pulsating out of Port Richey, Florida onto internet and college radio waves across the USA extends music globally via a grapevine-network of independent, Do-It-Yourself musicians collectively seeking to simply Be Heard, and secretly praying and hoping for recognition.

Most musicians want the recognition to follow in the wake of years of dedication to unleashing the music in their hearts and minds. DDK is one of those faithful stewards to the mantra emanating from within. Robert Melendez, founder of DoomsDayKult, recently established the Electronic Music Network which is an outreach network available to all musicians and Dj's, and music magazine editors, Music Promotors, college radio and internet radio indie music directors, graphic designers for web and cd cover art, and various other categories significant to producing and providing exposure for all types of music that involve influences from the electronic edge.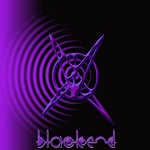 RivitHeadRecords (RhR), also founded by Robert Melendez, recently produced The Blackened compilation featuring in addition to DoomsDayKult, 17 other artists on this 2CD compilation, the first comp. released by RhR, now available via the website and by email inquiries to: [email protected] with "The Blackened compilation" in the subject line.
Latest news: Music by DoomsDayKult is expected to appear within the soundtrack for an upcoming indie film entitled, the "Web of Darkness".
Now, after much too-much chatter from me, Robert Melendez steps up to address our curious concerns...
IMWT: Who are the other musicians appearing on DDK recordings?
Robert: The only other artist at the present time is Micheal Donnelly of "Translucent", an indie band from Atlanta Georgia. He has done vocals on a song called "Father Mercy" which is due for upload to mp3.com any day. He has done 2 vocal versions on that track and is in the process of doing another track I have called "Still Alive", which may go through a name change after completion. Other than that still looking for a vocalist and maybe a guitarist.
IMWT: Tell us about the instrumentation and musical backgrounds.
Robert: Most of the newest traxx are software driven, the older tracks are remixes and original sequencing done by myself, and my pc and synths.
IMWT: Who do you admire most in LIVE musical performance?
Robert: Well the list could go on forever... however, 2 shows that stand out over the past 5 years would have to be "The Cruxshadows". I had a chance to open for these guys at GothCon 2000 when I played guitar for Martyr Complex, and I must say in my opinion they were the best act there as far as the tightness of the band and sheer talent. Rogue had the audience mesmerized with his stage presence "hey Rogue!" And then Apoptygma Berzerk/VnV Nation show in Florida was another spectacular show. I really liked the tightness of both of these bands as well, even managed to get some bootleg pics of both bands...
IMWT: How does song writing evolve from your contributions?
Robert: I'm not sure how to answer this one, but I'll say that any song writing comes from my moods so to speak. I'll be fooling w/sounds and depending what type of mood I'm in reflects the outcome of what I may be working on. I try to complete something I start when in a particular mood... if not, I may be in a different mood the next day and sometimes can't finish what I started until the next time I'm in the same mood.
IMWT: When & Where will DDK tour next?
Robert: Well that's a good question. Florida has not been so "open armed" about electronic bands for some time now, well that is if your the new kid on the block. I have played 2 times at The USF Marshall Center to a large crowd of about 15 people (heehee). Well if people could find the place, and some promotion was actually done, it may have been better. But I am planning on doing some Atlanta shows in the near future w/Comrades Translucent. I've also been asked to Pittsburgh and Virginia for some shows; unfortunately, without proper financial backing, these places are on the backburner until I can find a way to pay to get there. I will go just about anywhere if the cash is available. I will try to submit myself for GothCon next year if they are close enough. I would have liked to play this years GothCon but a day late and a dollar short, so to speak..
IMWT: Where do you do most of your recording?
Robert: For the time being, I do all my recording at home on the pc. I have lots of up to date software, and over the past year have been learning everything by trial and error. When the time comes, I will go to a studio for a fuller mix.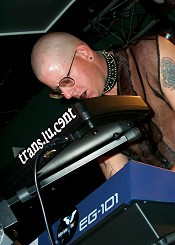 IMWT: In what ways will your live performances differ from recordings?
Robert: Glad you asked that. In live performance, I change the traxx a lot differently in order for people to go "hey that sounds different than the cd version". I either lengthen traxx, or add something completely different than the cd versions... and I actually look at the crowd while playing (heehee). I try to keep a live performance as diverse as possible, never play the same way at each show.
IMWT: What other side projects are you currently considering and developing?
Robert: Well I am working w/Micheal Donnelly of Translucent and have, as I said, 1 track w/2 versions, and have sent some files to him for the next track to be done w/him. I find Mike a great vocalist, and through the past year we have become good friends. I met him at GothCon Atlanta, he gave me a thumbs up for my performance there which I thought was terrible due to technical difficulties. Since then, we have kept in touch via internet. He, I can actually say, is the only guy that I haven't been jerked around by in the music biz. Most everyone I have dealt w/musically has basically worn their welcome out in my book, but I won't waste time in name dropping. Anyways, the project is yet unamed, but once we get some trax together we will decide on furthering the project which has great potential. And, as always, I love to gig w/all comers, and have a few side projects going on. I had spoken w/Florida goth rockers "Devolution and The Blessed Virgin Larry" about possible guitar work, but nothing ever came out of it.
Electronik Music Network: http://doomzdaykult.tripod.com/EmN/
IMWT: Describe the feedback you have received in response to your music.
Robert: Well, I am truly amazed at the acceptance of the DDK style. DDK originally started as music I was putting together at home in between my older projects "Technocracy", "Church of The Neon Jesus", and projects I joined up with such as "Martyr Complex". After involvement with these past projects caused more problems, rather then creating great music. Not to say we didn't make great music, but we all started off as friends then wound up distant strangers, which is a shame 'cause most of these people I've known for a long time and really admired their music. But back to the subject at hand... DDK has had some great response on mp3.com, and the internet presence has overwhelmed me. Great press reviews are coming in finally, and I could have never expected the success of this project in only 1 years time. I hope it gets even better.
IMWT: How do you determine what aspects of poetry, and lyrics will work with your musical intent.
Robert: Again, a mood thing and I really seem to choose lyrics that deal with life and the things that most people just seem to brush aside... such as suicide, fear of death, nuclear war, Big Brother.. Reality is the best dark secret...
IMWT: What will you entitle your next release, and when will it be available?
Robert: Well the most recent addition is "The End is Near". I have released some premature cds to local radio stations and fans, but am still compiling new material and would like this to be a full length. My other hobbies have been distracting me lately from my usual song writing. What, may you ask? Well my new distribution label, Rivithead Records... but that's an entirely different subject heehee. But "The End is Near" should be available at the end of the summer for mass production.
IMWT: Who will be distributing your next releases?
Robert: Well, aside from my label, Rivithead Records, Nepenthacea has already been carrying the first cd, "Produkt of my Environment", and has been for some time. I think with the ever growing presence of DDK, they may carry other DDK cds in the future. As far as that, no tentative labels have contacted us... maybe some day???
Nepenthacea - http://www.angelfire.com/music/nepenthacea/ Rivithead Records - http://doomzdaykult.tripod.com/rivitheadrecords/
IMWT: Any upcoming compilations pending release upon which your music is scheduled to appear?
Robert: The "Web of Darkness" soundtrack.
IMWT: What can you tell us about the indie film, "Web of Darkness" ?
Robert: WOD is an indie vampire movie being filmed in Florida. I was contacted by Porl Denicolo for inclusion on the soundtrack. I submitted my info cd's etc. And was even invited to a filming on the set. I took some pictures, and was told my music was definitely on the soundtrack, though they weren't sure what track yet. Others to appear on WOD are recently signed to Artemis Records "Crossbreed", Grimm Faeries, Martyr Complex, DDK, and a host of other's should be availible soon.
IMWT: From what have you drawn upon most to develop your music?
Robert: Hunger. Hunger for music in general. I just love to make music, and if people like it, well that just makes it even kooler. My hunger is fed by 3 things: 1. Lost musical family member. My younger brother, Chris Melendez, local grunge guitar god, unfortunately committed suicide; 2. My love to make and listen to music; 3. The drive I get from the people who say "you won't get anywhere, or you'll never do that?"... Oh and 4. My father who recently past on giving me the drive to never quite, no matter what. Fight for what you believe in.
IMWT: When did you start developing a commitment of recording and performing music?
Robert: New Year's eve 2000. My new years resolution, well the one I actually kept my word on -heehee.
IMWT: Please tell our readers about the origins of DDK.
Robert: Florida USA. A town called Port Richey (Port Raunchey I call it), but we play in the Tampa Bay area when we can.
IMWT: Who has had the most influence upon your progression as a musician?
Robert: My Brother.."GBHS".
IMWT: Where else might readers find your music available for purchase?
Robert: For now only 3 places:
1. Nepenthacea - http://www.angelfire..com/music/nepenthacea/
2. Rivithead Records - http://doomzdaykult.tripod.com/rivitheadrecords/
3. Another Dimension Tattoo's us 19 New Port Richey, Florida.
IMWT: What are you looking for now in terms of new musical influences?
Robert: Well, lately some dark trance artists have been catching my ear for new sounds in the Dark Club category, but this summer I'm going to get a little noisy... been gearing up for some guitar oriented Industrial Metal stuff and some Goth Rock... been awhile and I would like to record some ideas I've been thinking about.
IMWT: Which live performances have you seen during the past year that impressed you the most?
Robert: Apoptygma Berzerk/VnV/The Cruxshadows/Seraphim Shock..
IMWT: How do you know when you connect with your audience?
Robert: Well, ok, I guess the past 2 shows had about 15 people so I really couldn't say... although they all clapped and bought cds so I guess I did ok (heehee).
IMWT: What innovative concepts would you like to focus upon in your future performances and recordings?
Robert: As far as performance, more members and a kick ass light show. Recording wise, just wanting to get a little heavier the next cd.
IMWT: What is the greatest drain upon your motivation to unleash the music you produce?
Robert: Everyday LIFE!!!!
IMWT: What motivates you to continue performing and recording new music?
Robert: Fans and The Music itself.
IMWT: What new opportunities are you exploring and developing to advance your music to the general public?
Robert: The introduction of Rivithead Records, and online radio has helped get the DDK name out.
RhR is a new distributor of new music to the scene: Industrial, Synthpop, EbM, Industrial Metal, and all other Dark Hybrid Electronica we can find suitable. We use the stations to showcase these artists as well.... http://doomzdaykult.tripod.com/rivitheadrecords/ has all the info...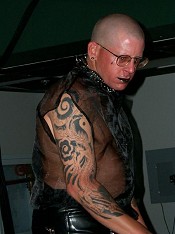 IMWT: Tell us a bit about the most memorable performance you have had with DDK to date.
Robert: Well the DDK live shows have only seen 2 venues to date... never really thought about going live until recently with Digital Encryption did I think about going live, as I am a solo project for the moment. But both were memorable in the way of at least 15 die hards actually made it... so the fact that anyone showed at all was memorable indeed.
IMWT: How is DDK evolving?
Robert: Well our recording methods over the past year have improved 10 fold, our ideas haven't changed much, and I am still looking for keyboardists and vocalists to make an even better band.
IMWT: Tell us about your gear. What do you use? How do you manipulate gear, and technology and know-how to unleash the music?
Robert: Well being it's only me I use a pc, a Roland 301 groove key, and Korg Triton synth. I can only layer synth lines and drum beats, but you'd be surprised at how much noize one man can make!!! And the ever growing light show.
IMWT: Tell us about sampling and how it weaves into the music.
Robert: In some means the samples tell a story, so to speak. It may be different for everyone who listens to it, but nonetheless, you get something out of the arrangements and song titles.
IMWT: How do internet resources impact how you are able to expose and market your music?
Robert: If it wasn't for the net, this article probably never would have taken place, nor the others for that matter. The internet made DDK what it is today..
IMWT: Looking back, what mile-stones have been most notable for you in the development and advancement of your music?
Robert: Just the accomplishments alone... First becoming DDK; Second promoting the works; and lastly being accepted is the most anyone can ask for.
IMWT: What lies ahead for DDK musical developments?
Robert: Focusing on the national exposure of DDK music and hoping for some financial backing to tour... and hopefully some new members..
IMWT: Which songs required more significant development in production?
Robert: The Machine, and Death is Coming...
IMWT: What challenges have you experienced thus far in expressing your views through music?
Robert: The acceptance of some of my more ravey sounding traxx to the goth crowd... but has thus far proven to be a successful mix, I've even been told a refreshing new approach to Dark Dance..
IMWT: Where can our readers find on-line audio of music by DDK?
Robert: http://www.mp3.com/DDK
IMWT: Where can readers write to with any further questions and feedback?
Robert: [email protected], [email protected]
IMWT: What have you cooked up for DDK in the next few weeks and months?
Robert: DDK is on hold as far as recording. We are trying to set up some local shows in Florida and Atlanta, and taking time to get RhR's first cd compilation "The Blackend Compilation", off and running... 18 traxx of new artists that are sure to please. Look for reviews in the near future.
IMWT: What does DDK plan to accomplish by year's end?
Robert: National acceptance, financial backing, and some tour dates other than Florida.
IMWT: What more would you like to share with our readers?
Robert: Just hoping all newly exposed to DDK will enjoy what I have to offer.
IMWT: Final words?
Robert: Just want to thank you for this interview Jett and am glad to have made the acquaintance of such a great guy....And thanks to the DDK fans and stations that have made us what we are today... DDK.