Blow-Up
Exploding Plastic Pleasure (Electro Venus)
By: Jett Black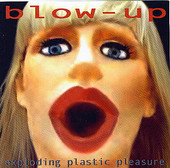 Featuring Deborah Harry, "Uncontrollable Love" (5:37) is like a breath of fresh air dancing across the dj booth. Hair-swinging exstacy spills in waves of passion from this incredible dance mix. Heart-throbbing, head-bobbing, boot-stomping action with processed vocals resembling that of Sascha K. (KMFDM) intro the hyper-sonic club hit, "FLY WITH ME"; music certain to keep those calories burning all-night-long! LYDIA LUNCH is "ON THE PROWL" electronic beats set to what sounds like "Riding the Metro", and then lunch licks out orgasmic spoken word storylines... this lick is the ALL-TIME hottest dance track to explode across my desk! Makes me want to just whip it out and fuck the next thing that moves!

And now, somethin' for the ladies: Words written by ZONE, "(i was a) MALE STRIPPER", delivers more of the electro-sex appeal layered in abundance on this must-own album.

"Les appels t?l?phoniques" ("Telephone calls"), is sung entirely in french with sultry male vocals. Playmates Serving suggestion: Consume with Hot fudge chocolate, strawberries, and chilled champagne!

WOW! Don't overlook the hidden track (#12) ... Deborah Harry is back again for this remix of "Uncontrollable Love" (5:38). It's = completely off-the-hook, and it's in stores NOW!