The Shins
Chutes Too Narrow (Sub Pop)
By: Alex Steininger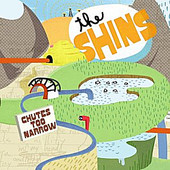 Lighter and leaner, The Shins'Chutes Too Narrow, their sophomore record, which follows up their debut, Oh, Inverted World, focuses more on front man/primary songwriter James Mercer's lyrics, giving the songs a sparser, even singer-songwriter face at times. However, Chutes Too Narrow isn't without its rock, either. With tracks like the opening "Kissing the Lipless" or "Mine's Not A High Horse", the band shows they still do indie-rock/pop with unbeatable talent. The first a number that builds from soft and stripped down, turning into a full-blown, poppy, melodic indie-rock hit. All while the latter is another jangle-y, indie-rock song you won't soon forget.

Of course, there are also tracks like "Pink Bullet", which rely primarily on Mercer's voice, his acoustic guitar, and light accompaniment in the mix, which give the record it singer-songwriter moments. However, don't think for a minute the shimmering pop or the keyboard-drenched moments of melody backed by lively guitars and an active rhythm section are short on this record - they're not.

Combining the best of both his worlds, James Mercer delivers acoustic pop treats and solid indie-rock on the same album without alienating his audience or making anything feel awkward. Chutes Too Narrow is a true treat. I'll give it an A.