Shiner
Starless (Owned & Operated)
By: Alex Steininger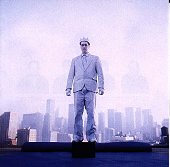 Heavy and hard-hitting, Shiner is where hard rock and hardcore collide. With deep, passionate vocals that opt to sing rather than scream, and a very intense sound throbbing behind the vocals, Starless is an album that defies punk, hardcore, modern rock, and hard rock categories, yet tries to fit into them all.

The modern hard rock crunch of "Spinning" seems oddly out of place on an indie pop-punk label. It would be more fitting on an 'alternative' rock station playing along side Alice in Chains, Pearl Jam, Godsmack, or one of the hordes of other heavy bands finding their way onto modern rock radio play-lists.

"Kevin Is Gone" pulsates with a ringing punk drive, but all that is over shadowed with its heavy, over saturation of hard rock and heavy, moody alternative grooves caked on top of it all. The same is true for "Glass Jaw Test," "Lazy Eye," and the laid back "Too Much Of Not Enough."

Not sure whether they're a hard rock 'alternative' act or just a very heavy, punk-influenced rock band, Shiner falls short of shining on Starless, an album that seems to value faceless, bland rock as much as the next radio darlings of the moment. I'll give it a C-.