Jon Auer / Ken Stringfellow
Private Sides (Arena Rock Recording Co.)
By: Alex Steininger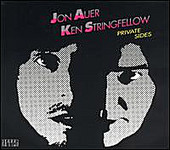 The Posies two front men - Jon Auer and Ken Stringfellow - team up for the split EP, Private Sides- an album that finds the two pop songsmiths delving deep into their soul to craft six equally poignant, gripping songs.

Leading off with Auer's three compositions ("When The Lights Go Up", "Beautiful", and "All U People"), Auer leads off the album with a dripping, sweetly sobering, roots-y number complete with strings. A semi-lush, semi-sparse combination that sends goosebumps up your arms, his well-crafted melodies and lyrical sense make this an apt lead track for the album.

Following up with "Beautiful", Auer doesn't stray very much from the rock 'n' roll, creating an electric, full-on power-pop production (sans the drums and bass), easily earning your trust and getting you singing along in no time.

Stringfellow, the more prolific songwriter of the two, if only out of circumstance, comes through with three more shimmering pop nuggets. His three songs ("Ask Me No Questions", "Don' Break The Silence", and "Prequel") start off with two laid back, serene delights. While "Prequel" follows Auer's lead and delivers a rocking, electric guitar (without drums and bass) rocker that soars high with hooks and, even with out the rhythm section, gets you pumped up and singing along.

Both songwriters showcase their pop smarts with these six songs and also prove that, side by side, or back to back, any way you can get these two working together is a good thing. I'll give this a B.