Jon Auer
6 1/2 (Pattern 25)
By: Alex Steininger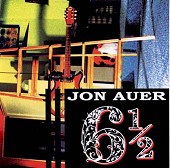 On his first solo release in the U.S., Posies singer/songwriter/guitarist Jon Auer chooses to cover artists from Madonna and the Psychedelic Furs to Ween and the Chameleons UK, distinctly reworking them and turning them into his own compositions.

Relying on his genius as a pop craftsman, Auer leads us through Husker Du's "Green Eyes", using an acoustic guitar and his voice, creating a quiet song still potent in the pop department, hooking you and nesting in your head.

Madonna's "Beautiful Stranger" sounds stripped down, while Auer's rendition of Ween's "Baby Bitch" is full, complete with drums, bass, and strings.

Auer once again proves himself a versatile pop figure, delving into other's unique songs and re-tooling them to fit his style, oft-bulldozing the songs to rebuild them. I'll give this an A.