SHOW REVIEW: David Lee Roth
Live at The Beacon Theater - September 13, 2003 (New York City)
By: Vinnie Apicella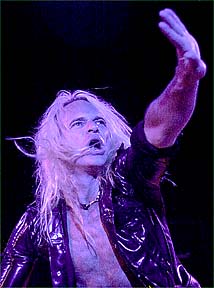 "Ricky Martin's got nothing on this white motherfucker!" announced Diamond Dave during one of his notorious rump shakes between grooves of his smokin' Saturday night set for a near capacity crowd at NYC's renowned Beacon Theater, supporting his latest covers-only release. An inarguable point that Mr. Roth was quick to accentuate on more than a few between song breaks. Anyone expecting any age mellowing or talk over walk from the always outspoken still unbroken spirit of the new DLR show was in for a quick senses boosting boot to the temple from the leather-panted yet limber frontman, whose center-stage samurai stance remains every bit as polished as the day he first presented it.

Granted, Roth's been known for his well documented disputes with his former Van Halen band members and tour partners than for the quality of music he's released since boldly stepping solo during his shocking mid-'80s sendoff from one of Rock history's mega-selling superstars. Some might say the California sun went straight to his head, and his considerably sun-drenched and shaggier look notwithstanding, few can argue his stage stealing skills and personality he brings to the party. Forever the dynamic showman, Dave's fuel is fired from an egocentric excess that pushes him farther than most half his age and by the time the last light came on, it was rare to find a straight face in the packed house. While the official "DLR Band" may no longer apply, and though his touring band features no one named Vai, Sheehan or Bissonette, they displayed tight musicianship delivered with the occasional hair flip and leg kick as they cycled through many a classic VH and several DLR-solo tunes for some two hours.

Magnified by a giant screen rear of the drum rise, the three tiered theater was beaming throughout the evening, highlighted mainly by song selection and Rothian-led Vegas-like effects coincident with the postwar one-upsmanship rancor since the upsetting scene that shook the Rock world. Opening with the familiar intro to the acclaimed "Hot For Teacher" hit in '84 the crowd was instantaneously brought back in time when Roth-era Van Halen, for many, the biggest and best version, ruled the airwaves and Rock video was fun to watch. In spite of no perfunctory appearance from the beloved "Waldo" character, the band flipped the pages of history in carrying out many greats of the past that for some in attendance might be the first and only time to ever hear prime-era VH without benefit of the original band.

The expected classics and occasional brow-raiser were met with resounding success -- "You Really Got Me," "Dance The Night Away," "Mean Streets," "Somebody Get Me A Doctor(!)" plus hyper extended versions of "And The Cradle Will Rock," and "Panama." The band made sure to spotlight the few better known DLR hits as well, including "California Girls," "Just A Gigolo," and of course "Yankee Rose," which was among the most enthusiastic crowd pleasers of the night. Bathroom highlights were few and far between, though there appeared a mass merging aisle build up around the time the acoustic version of "Ice Cream Man" came around. All told, not much to complain about-- at least until the after show misappropriations for those lucky enough to wait for nothing.

Diamond Dave's show saved the best for last with essentially unannounced encore-level tunes leading up to "Jump," in which he, naturally, did, several times, and preceded by "Ain't Talkin' Bout Love." While there were no such hatchet-burying guest spots, there were a couple of impromptu side effects including an apparent Sammy sighting, though amid the confusion, the greater likelihood was of a too rabid fan that couldn't get enough California sun in mid-September, and a cell phone sing-along for some lucky front row fan and their doubtlessly stunned receiver. The tix were pricey, no getting around that, and the opening act was a Blues-bred guitar player to be named later that received righteous reviews from the still assimilating crowd round the eight o' clock hour. Because it's David Lee Roth, because of his history and his reputation as an entertainer who'll go over the top and beyond for the sake of the show, the price of admission was easier to absorb-- at least in the opinions of those few polled on the beverage lines.

Though his singular success will never achieve the God-like status achieved during his VH hey day, few can replace Roth when it comes to fun factor and stage presence in the incomparable originality he brings to the spotlight, both with the moves and mic. After catching an eye and earful of the original, any such notion of an "Atomic Punk" stand-in voicing-over "Everybody Wants Some" with any perceived degree of legitimacy comes away sounding nothing short of comical.