SHOW REVIEW: Death Cab For Cutie w/ Pinehurst Kids and The Maroons
February 19, 1999 -- EJ's (Portland, Oregon)
By: Alex Steininger



What to do on a Friday night in Portland? Well, the obvious choice would be to head on over to Sandy Boulevard to the hippest, most punk/rock 'n' roll club in the, well, entire Northwest...EJ's. Not only do they have Hell's kitchen, big portions for dirt-cheap, they've got some of the best sound in town. And, if that weren't enough, their stage hosts some of the finest rock 'n' roll bands to come through this area.

Tonight was an excellent example of just what they're capable of. Heck, Oscar-nominee Elliott Smith, Quasi/Sleater-Kinney drummer Janet Weiss, and members of Jr. High and No. 2 (Elliott Smith's supporting acts for his upcoming tour) could all be spotted in the audience. What's good enough for them has to be great!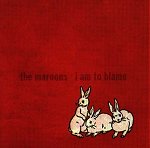 Starting off the night was The Maroons. Led by John Moen, who has one of the sexiest voices in rock 'n' roll, The Maroons did the 'warm-up' job quite effectively. Mixing tracks off of their 1996 debut, I AM TO BLAME (Slo-Mo Records), along with new material they're playing out to take to the studio with them, their tunes not only set the tone for a night that was going to be one of the best shows of the year, but a night that all in attendance will remember.
Keeping their music powerful and full of fired up hooks, they still manage to keep everything pretty, dreamy, and imaginary. If there were ever a time to call rock music pretty, this would be the case. As they dove through song after song, the crowd sipped at their beers while they were tapping their feet and moving their bodies to every note. The audience hadn't grown to its high for the night yet, but there were still plenty of people there to enjoy the music.
The keyboards of Mike Clark sparkled while the rhythm section of John Cox and Eric Bennes effortlessly went on without missing a beat. Of course, the dual guitars of Jim Talstra and John Moen set the night up for some nice leads and delicious hooks.
It's one thing to hear a band on record, but, especially in The Maroons case, hearing a band live is a totally different experience. I AM TO BLAME is a good record, but live they take the energy on disc and multiply it by ten. As the keyboards danced around in the song, and the sweaty rhythm section hammered out the notes, the two guitars kept things blissful and sunny musically, while also making sure they stretched out into some more powerful notes here and there. One thing is for sure, these guys are not to be missed. But, as the crowd rolled in, the Pinehurst Kids were ready and willing to serve up more indie rock for everyone.
The three members took the stage -- Joe Davis on guitar/vocals, Caleb Gates on bass/vocals, and Robler Kind on drums -- and instantly, without even singing or playing a note, had the crowd waiting eagerly. Recently signing to Four Alarm Records, an indie label out of Chicago, and re-releasing their debut CD (MINNESOTA HOTEL), the band is letting loose on hometown fans before making the trip down to SxSW to give industry execs and music fans alike a taste of their power-pop gone fuzz brand of rock 'n' roll. [NOTE: The Maroons are also making the trip down to SxSW, so make a point of checking them out if you'll be in attendance.]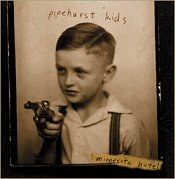 Playing songs off of MINNESOTA HOTEL and their recently recorded follow-up, VIEWMASTER, which is due out in October, the band threw familiar favorites out to the crowd along with new ones. The familiar favorites got the crowd singing along, while the new ones, still as accessible as the debut tracks, had the fans into the choruses by the second time they hit.
One of the best things about seeing The Kids, as they are commonly referred to by people who think they're hip and pretend to be in the know, AKA me, is seeing their different personalities on stage. Joe Davis, and his short frame, approximately 5' 6", bounces and jumps around with his fender in his hand while he slams and pounds on the thing. Then there is the much taller Cal Gates, who is quite the sight to view live. Besides his facial expressions during different numbers, the way he dances and plays with the base is comical. He'll have you cracking up and having a good time by the third number, regardless of your mood. Then there is the ever-serious looking Robler Kind, who focuses on the music, and his drum kit, and just pounds and pounds away. Nothing distracts him or knocks him off of his goal -- giving the fans the best show he can.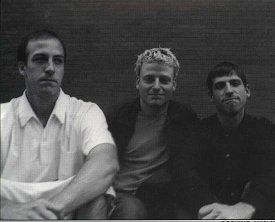 The Pinehurst Kids do a great job of getting their live sound on record, but their personalities bring the songs to life live. Joe Davis' voice often changes from song to song, which adds real life to the song. There is no studio to gloss everything up and make it sound equally perfect, so here you get a chance to really see what they're all about. And, as always, EJ's gave us a chance to see them at their fullest. Joe pulled off each number with his screams and emotionally powered vocals, regardless of how his throat was treating him at the time. Even though his voice changes between songs, he still sounds like Joe, which is always something great to hear when combined with the powerful lyrics and melodic beats the band spits out.
Rounding out the night was Washington State's Death Cab For Cutie. After The Kids set the place was almost packed, but more people slid in to see Death Cab's set. Not knowing much about them, and previously never hearing them, it was interesting to see what they were all about.
The first thing I noticed, besides their music, was their tall lead singer's mic, which was lower than it should be. He had to partially bend down to sing into the microphone, and he seemed to enjoy it -- it seemed to be his usual stance.
The next thing that hit me was their music -- sometimes spacey, sometimes harder, and then sometimes light and romantic. I've been told they sound a lot lighter on disc, and that their live shows are what their music is all about. If that's the case, their music has a lot to offer. In the style of Built to Spill indie-rock, these guys know how to make rock and roll that will stick to your heart and ears. Their music makes you feel and have fun.
As I sat there song after song, and seeing the lead singer crouching down to take control of his mic, I began to like them more and more ? they were quite impressive. With their tour schedule the way it is, and another Pinehurst Kids/Death Cab For Cutie show planned for March, I just might have to check them out again.
Three amazing bands on the same night, without club hopping. It's everyone's dream Friday, and on the 19th of February it came true for some lucky Portlanders. All three bands are impressive, and shouldn't be missed, especially if their sets were any indication of what they're all capable of.