Pride & Fall
Nephesh (Metropolis Records)
By: Vinnie Apicella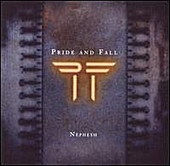 One thing that I've come across with many EBM practitioners is that they while they create dynamic music generally delivering on the promise of some notion of innovation and distinctness, rarely do the songs, save for one or two, jump out as an individual voice demanding to be heard again and again. It is rare that we slap on a CD and peg track three, seven or ten for an immediate one off gratification but rather, press play and settle in for the duration; that's the usual function, and many are good at it. They are complete works to be enjoyed at full length on the dance floor or the next scheduled shuttle to the stars.

"Nephesh," the latest from the Norwegian trio Pride & Fall is certainly no exception, however, there is an immediacy to instant club hits like "Inside," "Paragon," and "December" that climb into the listening experience on equal footing as that which inspires one to move those feet once the beats kick in. Introduced by "The Approach," a 90 second introduction that's akin to gazing into space on a breezy, cool September evening -- seemingly concluded 89 tracks later(!) we're quickly surrounded by catchy Pop melodies, accentuated dance beats and New Wave inspired vocs. Pride and Fall shares similarities with like-minded groups as Apoptygma Berserk and VNV Nation where Electronic music breeds with a Future Pop purpose creating a wider expanse for the listening audience. "Serenade Of Dreams" innocently enough near the end, establishes itself as another "hit" of the overall ten -- a well drawn mix of guitars, synths, and programming -- with a captivating and cinematically drawn sense that conjures a gentle backdrop over pointed narratives; "Extinction Means Forever" follows up and emboldens the spirit of the previous, capturing the sense of intrigue and melody while sharpening the synthesized effects, sharpening the beat and extending the mix. "Nephesh" is an elemental and illuminative debut from forward looking performers with fresh ideas that'll see them blessed with pride long before experiencing a fall.