The Prids
Glide, Screamer (Self-Released)
By: Dj Ophelia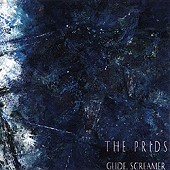 To me The Prids are the saviour of the indie underground. They remind me with every guitar lick that the days of romantic, intelligent, organic dance music is indeed not over.

I am pleased right off the bat with "Glide, Screamer". It's a beautifully intense song, with synth lines i could easily get lost in. "Human Astronomy" is deeply emotional and powerful,touched with Mistina Prid's haunting vocals. "Persona Solara" is a track I am very familiar with as I have been incorporating it in my dj sets for a year now. Its a fun song that makes you want to dance till you're dizzy. "Duracraft" is a live track recorded at The Satyricon (Portland,Oregon) which unfortunately doesn't do justice the raw energy that goes into a Prids show. I don't think that kind of live, pure ability could be pressed into a cd.

If you ever have a chance to see The Prids live I highly recommend doing so. You will not be dissapointed.

If you like The Prids I recommend: The Smiths, Julian Tulip's Licorice, Echo & the Bunnymen.